by: Ryan Waldis
Follow him on Twitter
@TheRealWaldo_10 by clicking here
Watch the latest episode of
the War Room on UStream by clicking here
The 2013 NFL Draft has been completed for over a week, and at this point in time, many fans start to wonder if the prospects their team selected will turn out to be a great contributor or a bust. So, I figure now is a decent time to release my draft recap for the Philadelphia Eagles.
Surprisingly, the selections seem great, with little to no risk. Basically, the draft class seems like a good one. Of course, Andy Reid said his draft class looked good for the past 14 years, so I won't jump the gun. However, it seems as though Howie Roseman and new head coach Chip Kelly put a lot of time and effort into making this draft a successful one. The team didn't reach for anybody, and they stuck with their draft board from day one, instead of shying away from it after the first round.
Of course, the draft is one of the main reasons why this Eagles team has been horrendous over the past two seasons. In order to be a competitive team year in and year out, the front office can't continually sign big ticket free agents. Instead, the front office needs to devote a lot of time into creating a solid draft board and making solid selections when the time comes. Over the past several seasons, it's easy to say that most of Reid's selections were not up to par. Let's take at Reid's selections over the last three years of his Eagles career:
Looking at the 33 picks from 2010-2012, there should be one word going through every one of your heads right now: pathetic. Out of those 33 picks, there are only six that have worked out in my opinion:
Alex Henery
,
Jason Kelce
,
Fletcher Cox
,
Mychal Kendricks
,
Brandon Boykin
and Nick Foles. Look at the aforementioned statistics again: 33 players drafted from 2010-2012, six decent selections. That leaves 27 players who the Eagles did not do their homework on. People wonder why teams such as the New England Patriots or Baltimore Ravens are competitive every single year. It's not because of a free-agent star quarterback or a shut down defense. It's because their front office knows how to draft players who can contribute immediately, something the Eagles have seemingly lost the knowledge of doing. With that in mind, here is your 2013 Draft Recap for the Philadelphia Eagles.
First Round:
Lane Johnson; OT, Oklahoma
Pre-Draft Grade
(as given by NFL.com): 92.9- Immediate Starter
Photo Courtesy: USA Today
Analysis
: I assume that, if the Miami Dolphins did not trade up to the third overall pick, Dion Jordan would have fallen to the Eagles. In that case, I'd also assume that the Eagles would have gone ahead and used the fourth overall pick on Jordan. However, that did not happen, and instead the Eagles drafted a very talented offensive lineman in Lane Johnson.
Johnson has a ton of potential to become a Pro Bowl caliber offensive lineman, but of course there is one word that has been continually used to describe him: raw. That's not a word most Eagles fans would want to hear. Remember the last time the Eagles used a first round pick on an offensive lineman who was considered raw? It didn't work out so well, and now
Danny Watkins
may soon be finding himself only fighting fires.
However, Johnson is different. Sure, Johnson has only played offensive tackle for a couple of years (similar to Watkins), but his skill set seems much better, despite the fact that Johnson was originally a quarterback. Johnson was not only considered the most reliable blocker on the Sooner O-Line, but in the entire nation as well. He plays with an attitude; not a TO attitude, but the kind of attitude Philly fans love (as stated in his scouting report, Johnson "looks willing to hand-fight with defensive ends.") Most importantly, Johnson never stops moving until the whistle blows. He keeps his feet moving after the initial contact, and hustles down the field in case he needs to block someone else. Johnson not only makes sense in the short term, but the long term as well. Johnson will not become Watkins 2.0; he'll be a reliable run and pass blocker on the Eagles offensive line for years to come.
Second Round:
Zach Ertz; TE, Stanford
Pre-Draft Grade
: 82.2- Eventual Starter
Photo Courtesy: Philadelphia Eagles
Analysis
: When Ertz was selected, the type of offense Chip Kelly will run at the NFL level became a bit more clear. It seems as though Kelly will use an offensive scheme similar to the Patriots; that is, using many two tight-end sets throughout the duration of the game. With the addition of
James Casey
, along with the selection of Ertz (and no, I haven't forgotten about
Brent Celek
), Kelly's offense can create a large number of match-up problems.
Anyhow, Ertz is an intriguing prospect to keep an eye on. He's being compared to
Jason Witten
due to the fact that he can both receive and block. He's not afraid to leave a couple of bruises on defenders, preferring to run straight at them instead of around them. When he doesn't have the ball in his hands, Ertz is always eager to help his team, looking for anyone on the defense he can block.
He makes incredible catches (his scouting report stated that it "Looks like he has glue on his hands with some of the catches he is able to make") and he is smart, which is often overlooked in college prospects (Ertz is a junior but will graduate next month). In terms of personal achievements, Ertz earned All-American Honors last season while being named a finalist for the Mackey Award, given annually to the nation's best Tight End. If there is one thing Ertz can work on, it's simply his consistency blocking and receiving, although he performs quite well in both areas regardless.
Tight End wasn't one of the major needs on the Eagles draft board, but the Eagles got lucky and pulled the trigger and one of the most intriguing offensive prospects in this year's draft. In five years, the Eagles might have a top ten Tight End on their team. That's how much potential Ertz has.
Third Round:
Bennie Logan; DT, LSU
Pre-Draft Grade
: 78.7- Eventual Starter
Photo Courtesy: Eagles Gab
Analysis
: When Logan was drafted, many fans were unsure of who he was, despite the fact that he played on a top-flight college football team. However, that's due to the fact that Logan was overshadowed by many great defensive prospects (such as Eric Reid), and did not get the recognition he deserved.
Regardless, Logan will contribute immediately to the team, and will perhaps become a three-down player by season's end. He's well known for his ability to stop the run at the line; he's also a decent pass rusher with the ability to rush through an open gap easily due to his lateral quickness and athleticism.
He never takes a play off, always fighting until the whistle blows. Simpy put, Logan has a ton of potential; all he has to do is work hard each day during this upcoming summer. Here's another fact about Logan: he wore number 18 last season for the Tigers. That usually means nothing, as a number is just that: a number. However, LSU takes the number 18 seriously, as they give it to the player who "Best represents what it means to be a Tiger on and off the field."
That's a pretty big honor in my opinion. Logan is listed as a DT, but at 6'2 and 309 pounds, he could become the nose tackle the Eagles are looking for. The only thing he needs to improve on is his pass rush ability. Other than that, Logan is an intriguing prospect who every fan should keep their eye on this season. He'll surprise a lot of people.
Fourth Round:
Matt Barkley; QB, USC
Pre-Draft Grade:
82.0- Eventual Starter
Photo Courtesy: Crossing Broad
Analysis
: Well, my "
Nick Foles
will be the starter" (
click here if you'd like to read why
) prediction looks good to an extent: Barkley's selection truly shows that Chip Kelly does not need a mobile quarterback to run his offense. Regardless, I love the Barkley selection. He has so much potential, and surprisingly so many teams passed on him, simply because of his performance last season. Look at Barkley's career statistics below: (the asterisk annotates that bowl stats for that season are included)
So, despite the fact that Barkley had an "off" 2012 season (although 36 touchdowns to 15 interceptions isn't that bad), he has shown since 2009 that he can be a NFL-caliber quarterback. His stats, of course, do not tell the whole story. He makes adjustments at the line (even on run plays), and unloads the ball quickly. He's accurate, he has a strong arm, and most importantly, Barkley has NFL-style intangibles that any team would love in a quarterback. He takes hits and gets right back up, no matter what.
Barkley was projected as a first round quarterback after the 2011 season, but he decided to go back to USC to help compete for a Nation Championship. Of course, 2012 didn't go as planned, but Barkley was still projected to be a first round pick in some Mock Drafts. So, to draft Barkley in the fourth round is a steal. He won't be the starter from Day One this upcoming season, but if there's an injury, I believe Barkley could see the field. At the very least, Barkley will learn from Foles and
Michael Vick
, and perhaps compete for a starting job in 2014. Quarterback was a need for the Eagles going in to the Draft. With the selection of Barkley, they addressed it, and quite well.
Round Five:
Earl Wolff; SS, NC State
Pre-Draft Grade:
63.4- Draftable Player
Photo Courtesy: SB Nation
I predicted that the Eagles would select Wolff in the Draft, although he went two rounds earlier than I though. Regardless, I really like the selection of Wolff. He was originally a running back in high school, rushing for 1,000-plus yards. However, he was asked to switch to safety during that same year, and performed very well, accumulating five interceptions and seven forced fumbles. In college, his performance level on the defensive side on the ball continued to rise. Take a look at his collegiate statistics:
It's easy to tell that Wolff has a ton of potential. He's a big hitter, he can force turnovers, and he consistently makes and finishes his tackles. I don't believe he'll be an immediate starter this upcoming season, but it's a possibility. At the very least, Wolff gives the Eagles depth in the secondary. Fans should keep an eye on him over the next couple of years, as he could develop into a fine NFL safety.
Seventh Round, First Pick:
Joe Kruger; DE, Utah
Pre-Draft Grade:
73.0- Eventual Starter
Photo Courtesy: SB Nation
Analysis
: Yet another draft pick from the Pac-12, Kruger has a decent pedigree. One brother, Paul, played for the Baltimore Ravens and is now a member of the Cleveland Browns. The other brother, Dave, was a four year starter at defensive tackler for Utah. His father played football at Oregon State, and his brother-in-law, Tony, was a decent offensive tackle for Utah in 2011 and is now a member of the Oakland Raiders. Not many prospects can say they have a pedigree like that. Without the pedigree, Kruger is still a fine defensive lineman. He's 6'6, he's extremely strong, and he doesn't stop moving until the whistle blows. His weight is a concern simply due to the position he plays (he only weighs 269 pounds), but Kruger can easily improve that aspect by simply going to the weight room. Kruger was expected to go within the first 100 picks, so to get him in the seventh round is a big steal. He, like Bennie Logan, will contribute immediately. Kruger has tons of potential to be a solid playmaker on defense; the sky's the limit for him.
Seventh Round, Second Pick:
Jordan Poyer; CB, Oregon State
Pre-Draft Grade:
74.0- Eventual Starter
Photo Courtesy: SB Nation
Analysis
: Despite the selections of Barkley and Kruger much later than they were supposed to go, Poyer is the biggest steal, not only for the Eagles, but in the entire draft as well. Had he not had numerous off-field issues, Poyer would have been at least a third round selection and perhaps a second round selection. He was named to the All-American First Team by the Associated Press last season, which is a huge honor. Take a look at his stats over the four years he was at Oregon State:
So, by looking at his stats, it's clear that he is a decent defensive back with the ability to improve so much more. Basically, Poyer has so much potential that was overlooked by 31 other teams just because of his off-field issues. Poyer also excelled in another area at Oregon State: the return game. His stats when returning both punts and kickoffs are shown below:
Sure, the stats aren't amazing, but the Eagles could use a guy who can make tacklers miss in the open field, especially on kick returns. The Eagles were near the bottom of the league when it came to the return game last season, averaging a mere 21.0 yards on kick returns and 10.3 yards on punt returns. At the very least, Poyer could attempt to improve those horrendous numbers.
Just because a player is picked in the seventh round doesn't mean that the player is bad. Off-field issues can cause potential early round picks into seventh round selections; this was the case with Poyer. He had second round potential but was selected five rounds later. With Poyer's selection, the Eagles secondary has a ton of depth. Based on what happened last season, that's a good thing. I see Poyer contributing immediately on special teams, and perhaps even finding some playing time in the nickel, as Brandon Boykin did last season. In a few years, the Eagles could have a Pro-Bowl caliber cornerback in Poyer. At this point, that's a very favorable outcome for a guy who was selected in the seventh round.
Seventh Round, Third Pick:
David King; DE, Oklahoma
Pre-Draft Grade
: 52.3- Draftable Player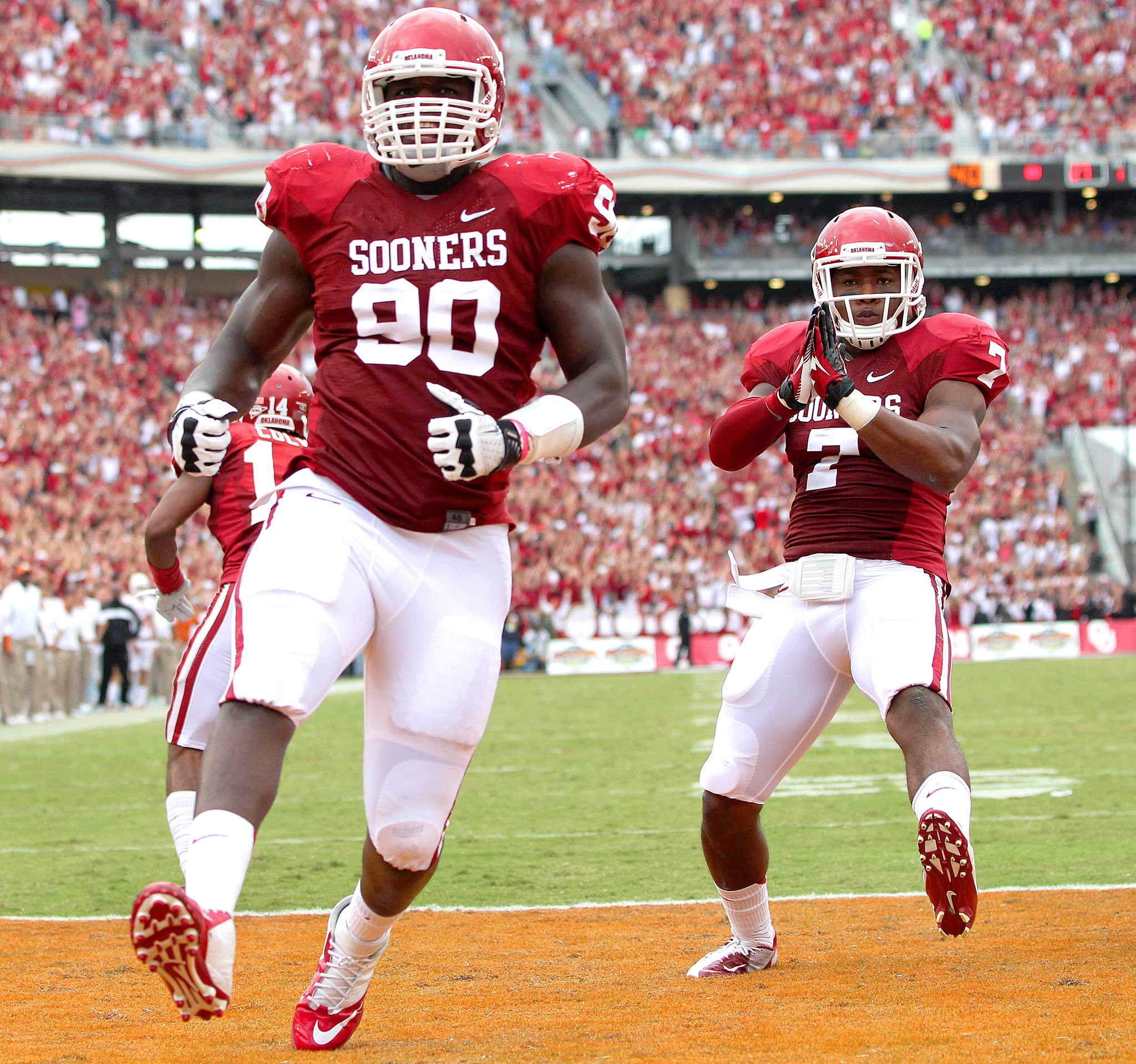 Photo Courtesy: ESPN
Analysis
: King was one of the best prospects coming out of high school. He was heavily recruited, and ended up choosing Oklahoma. King had a ton of talent, but didn't really start contributing until his junior year (he was redshirted his freshman year, and benched three games into his sophomore year). Still, King is intriguing, especially in the seventh round. He's athletic, he's versatile, and he can get himself into passing lanes to disrupt the pass (a la JJ Watt). King can contribute in a 3-4 or a 4-3 defensive scheme, so whichevver the Eagles choose to run will be no problem for him. He's inconsistent getting off blocks by the O-Line, but that can be improved. As I mentioned in Mock Drafts time after time, teams aren't necessarily looking for starters in the seventh round; they're looking for players who they think can develop and mature, and perhaps become a starter sooner or later. If King makes some noise during Training Camp and the Pre-Season, I think there's a good chance he earns a roster spot. If he doesn't do much during the summer, he was selected 239th overall, so there wasn't much at stake to begin with.
I also felt it was necessary to include the list of players the Eagles agreed to terms with after the draft. I won't give a formal analysis on them; however I will include their pre-draft grades (if one was provided) or an interesting tidbit. If you wish to read a brief description of each player, feel free to
click here
; the website does a nice job giving some background information on the players.
Jake Knott; LB, Iowa State (60.2- Draftable Player)
Miguel Maysonet; RB, Stony Brook (59.0- Draftable Player)
Kyle Quinn; C, Arizona (Centered for Nick Foles)
Issac Remington; DL, Oregon (Kelly must feel that Remington can contribute)
Russel Sheppard; WR, LSU (May have been contacted and signed by the Eagles before the draft was complete: a big no-no in the NFL that could result in penalties to the team)
Damion Square; DL, Alabama (53.1- Draftable Player)
Matthew Tucker; RB, TCU (56.0- Draftable Player)
Brad Wing; P, LSU (Highest punting average in LSU history)
Overall, I feel as though the Eagles had their best draft in several years. They stuck to their draft board, they filled their needs, and they made selections that improved their depth at certain positions. Chip Kelly and the front office did a great job this year. I for one can't wait to see these prospects hit the field, and I know you can't either. The season will be exciting; the prospects the team selected will make it that much better.
Overall Draft Grade for the Philadelphia Eagles:
A-