by: Ryan Waldis
Follow him on Twitter
@WarRoomPHLRyan by clicking here
Watch the latest episode of the
War Room on UStream by clicking here
Game Time: 7:30 PM EDT
TV: NFL Network/6ABC
Radio: SportsRadio 94 WIP: 94.1 FM and 610 AM
Photo Courtesy: Sports Illustrated
After a truly disappointing 2012 season, the time has finally come to see if this Philadelphia Eagles team can truly be any different from last year as they kick their 2013-14 preseason off against the New England Patriots. There is a new coach running the show for the first time since 1999, and everyone is anxious to get a glimpse of Chip Kelly's offense. The roster has been completely made over, and
it will be interesting to see which players step it up, not only tonight night, but over the next several weeks. Roster spots are at a premium, and there are many players on the bubble. Sure, preseason football doesn't have the same atmosphere as a regular season game, but after 200+ days of waiting, it will certainly be fun to see the first full speed look at the 2013 Philadelphia Eagles.
The Last Time They Met:
August 20th, 2012
- Eagles
27
, Patriots
17
For the second consecutive game, Michael Vick had to leave the game early due to an injury. Enter rookie QB Nick Foles. The man who would hold a clipboard for the first half of the season gave fans a glimpse of his potentially bright future as he led the Eagles to a come-from-behind victory at Gillette Stadium. Foles played for most of the first half and part of the second half, going 18-for-28 for 217 yards, two touchdowns and an interception. Bryce Brown also made a small impression, managing to rush for 51 yards on nine carries. Overall, it was a strong game for the team, and it gave fans hope that the 2012 season would be different.
Three Key Storylines for the Eagles:
Photo Courtesy: philly.com
Photo Courtesy: CBS
One, of course, is the quarterback situation. Matt Barkley seems to have taken a backseat in the open competition, seemingly leaving the job up to either Michael Vick or Nick Foles. Vick will start under center for the Birds. It's unknown how long each QB will remain on the field. My best guess would be each quarterback getting a few possessions, but Kelly might go as far as giving each QB an entire quarter to work with. During the past couple weeks, Vick has seemingly been pulling away from Foles, as he has been performing very well in practice.
However, Foles hasn't backed down, and many believe he still has a strong shot to be the starter (myself included). Each QB will need to be at their best tonight if they want to impress Kelly. It's true that there are still three preseason games remaining after this, but it's always better to make a good first impression, especially in front of a new head coach.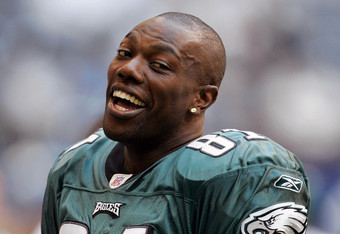 Could this happen again?
Photo Courtesy: Bleacher Report
Another key storyline is the suddenly weak receiving corps. A group that looked strong to begin Training Camp, the Eagles WR's have been dropping like flies recently. Both Jeremy Maclin and Arrelious Benn have been ruled out for the entire season due to torn ACL's, and two others (B.J. Cunningham and Dave Ball) have been released.
That leaves nine healthy WR's: Jason Avant, Riley Cooper, DeSean Jackson, Damaris Johnson, Nick Miller, Ifeanyi Momah, Will Murphy, Greg Salas, and Russell Shepard. To an average fan, most of those names might not seem familiar. That's a problem, considering the Eagles don't have a QB like Tom Brady to make unknown receivers into solid contributors. If the current group of receivers doesn't cut it, the Eagles may have to look at the free agent market. Surprisingly, there are many decent WR's that could help the Eagles. Here are some of them, with their age and previous team in parenthesis:
-- Deion Branch (33, New England Patriots)
-- Steve Breaston (29, Kansas City Chiefs)
-- Brandon Lloyd (31, New England Patriots)
-- Randy Moss (35, San Francisco 49ers)
-- Terrell Owens (39, Cincinnati Bengals)
As much as I'd like to say the WR corps would hold up over the course of the season, I can't say it. In order to win games, teams need to score touchdowns, and with this current group of receivers, it seems very unlikely that our WR's would contribute as much as they should. There's some good names on the free agent market; there's no reason not to take a chance on one or two of them.
The performance of the secondary will be one of the main things Chip Kelly and his staff will be keeping an eye one. Last season, the Eagles secondary was horrendous. They couldn't tackle, they couldn't cover; they really couldn't do anything. Fortunately, the staff has completely retooled the secondary. Gone are Nnamdi Asomugha and Dominque Rodgers-Cromartie. In are Cary Williams, Bradley Fletcher, Kenny Phillips and Patrick Chung. Nate Allen, Kurt Coleman, Brandon Boykin and Curtis Marsh are among the holdovers. It's safe to say that all eight will be giving it their all to prove to Chip Kelly that they deserve to start. If nothing else, the secondary will have depth this season, something it hasn't had in a couple of years.
Three Key Storylines for the Patriots:
As with the Eagles, there is one obvious storyline for the Patriots: their tight end situation. Rob Gronkowski is injured and Aaron Hernandez has had well documented off-field troubles. That leaves the Patriots with five active TE's, most of which have little to no experience in the NFL: Jake Ballard, Daniel Fells, Brandon Ford, Michael Hoomanawanui and Zach Sudfeld. Those five certainly can't make up for the loss of "Gronk" and Hernandez, as they accounted for roughly 47 percent of the Patriots TD's last season. There have been some rumors circulating that the Patriots might resort to using newly acquired athlete Tim Tebow at TE, but that has yet to be seen. For now, it'll be interesting to see how the Patriots utilize their two TE formation that has been unstoppable for the past couple of seasons.
The Patriots secondary was decent for the most part last season, but is entering this season with a big question mark. Devin McCourty, arguably one of the most talented members of the NE defense, excelled at safety last season but has been forced to move back to CB. Patrick Chung is no longer with the team, and Adrian Wilson certainly isn't getting any younger. On top of that, Ras-I Dowling and Alfonzo Dennard are both sidelined with injuries. Regardless of the secondary, however, the front seven for the Patriots should continue to be among the best in the league, which may help compensate for the secondary's shortcomings. Their rush defense is superb (they finished ninth in rushing yards allowed last season with 101.9 per game). Jerod Mayo and Brandon Spikes combined for 239 tackles, and are among the best LB's in the game today. Vince Wilfork is one of the better DT's in the league as well, making it even more difficult to run against this defense.
Photo Courtesy: ProFootballFocus
The offense, or lack thereof, is also a major storyline. Gone are Wes Welker, Brandon Lloyd, Hernandez and Danny Woodhead. Danny Amendola and Michael Jenkins highlight the newcomers, and the team is hoping Aaron Dobson (an early round draft pick) can produce immediately. Four of their top five reception leaders from 2012 are gone, and it's not easy to replace players like that. However, the Patriots have a Hall of Fame QB in Tom Brady who is capable of making unknown receivers into stars (see: Patriots, 2004). If Gronkowski was not injured, the lack of offense would most likely not be a problem. With him injured, however, it will be interesting to see who the Patriots look to when they need a big play.
Five Players to Watch on the Eagles:
Photo Courtesy: philly.com
Brandon Boykin
, CB: Boykin has been one of the better members of the secondary during the past couple of weeks. He has rarely been beat in coverage (DeSean Jackson running past him may have been one of Boykin's few mistakes thus far), and he has impressed everyone from the fans to the coaches. Boykin will need to show that he can deliver on gameday, though, and not just in practice.
Zach Ertz
, TE: Ertz has received nothing but positive reviews since being drafted. He has also impressed everyone in Training Camp, and it's now easy to tell why Chip Kelly liked this kid so much. It remains to be seen how long he'll play on Friday but it should be fun to see him play at full-speed.
Photo Courtesy: gcobb.com
Mychal Kendricks
, LB: Kendricks had a solid season as a rookie, finishing among the top three on the team in tackles. He did not, however, record many sacks. That's nothing against him, though; the horrific Wide Nine defensive scheme really limited Kendricks. This season, with Kendricks in his natural 3-4 defense, the sacks should come in bunches.
Earl Wolff
, S: He was a guy I included in my Mock Drafts several months ago, and for good reason. Wolff has the potential to be a great safety in this league. He has great agility, he can read plays, and he can lay people out when he needs to. With the positions in the secondary in flux, there's no reason why Wolff couldn't compete for a starting job over the next few weeks.
Jordan Poyer
, CB: I wouldn't watch Poyer so much for his talent at the CB position, but rather how he does if/when he is given the opportunity to return kicks or punts. Poyer was an excellent specialist at Oregon State, and although DeSean Jackson thinks he'll be the one returning punts this year, it wouldn't hurt to give this kid a shot. He's fast, he's agile, and he's explosive. He might also become this year's Brandon Boykin if he's given a chance to play in the nickel.
Five Players to Watch for the Patriots:
Photo Courtesy: Sports Illustrated
Tim Tebow
, QB: Obviously. The Patriots wouldn't have brought Tebow into the organization if they didn't
have a plan for him. Head coach Bill Belichick is one of the best in the league at utilizing all of the pieces he has around him and making them work together. Tebow will get time at QB late in the game, but don't be surprised to see him at some other positions throughout the duration of the game.
Ryan Mallett
, QB: This is the main QB to watch. The Patriots drafted him to be the eventual successor to Tom Brady, having him sit on the bench and learn from one of the best (similar to the Aaron Rodgers deal several years ago). He has a strong arm, and it will be interesting to see if he has learned anything from Brady yet.
Aaron Dobson
; WR: The Patriots drafted Dobson in hopes of retooling the offense. Dobson is explosive, and he was one of the best WR's at Marshall University over the past couple of seasons. He has impressed many people in Training Camp, and will look to do the same during his first taste of NFL football.
Jamie Collins.
Photo Courtesy: CBS
Devin McCourty
, CB: McCourty had troubles has a CB before transferring over to the safety position last season. There, he excelled, and became of the better safeties in the league. Now, due to injuries, McCourty has been forced to move back to CB, so it will be worth seeing if he will have some of the same troubles he had a couple of years ago.
Jamie Collins
, LB: Collins was another guy who I had in my mock drafts. Simply put, he is extremely athletic. He's fast off the edge, his vertical jump is incredible (one inch shy of the record at the combine), and he can do anything he's asked to do. Collins, along with Mayo and Spikes, easily make the Patriots front seven that much more intimidating.
Miscellaneous Information:
Last Season-
EAGLES: 4-12, last in the NFC East, missed the postseason
PATRIOTS: 12-4, 1st in the AFC East, lost in the AFC Championship to Ravens
Eagles Depth Chart-
Patriots Depth Chart-