by: Ryan Waldis
Follow him on Twitter
@WarRoomPHLRyan by clicking here
Watch the latest episode of the
War Room on UStream by clicking here
Game Time: 7:30 PM EDT
TV: 6ABC
Radio: SportsRadio 94 WIP: 94.1 FM and 610 AM
The Jaguars celebrating their first (and only) TD of the preseason.
Photo Courtesy: Associated Press
Coming off their first win of the preseason, 14-9 over the Carolina Panthers last Thursday, the Eagles have had eight days to regroup and improve upon their performance. Their next opponent is the mediocre Jacksonville Jaguars, a team that was only able to muster two wins last season en route to the second overall pick in the draft. The Jaguars have been horrific in both of their preseason games thus far, coming out on the wrong end of 27-3 and 37-13 losses to the Dolphins and Jets, respectively. As with the Eagles, the Jaguars also feature a new head coach in Gus Bradley, the former defensive coordinator of the Seattle Seahawks. Despite the new head coach, this team will have trouble improving from last season, as they lack talent at almost every position. Regardless, the Eagles will look to keep their momentum going while the Jags will look to get their first win.
The Last Time They Met:
September 26th, 2010-
Eagles
28
, Jaguars
3
Coming off of a 35-32 win over the Detroit Lions, the Eagles impressed once again and held the Jaguars to only three points. The team was led by Michael Vick, who was making his second start of the season in place of Kevin Kolb, who had suffered a concussion two weeks earlier against the Green Bay Packers. Vick completely obliterated the Jacksonville defense, completing 17 of 31 passes for 291 yards and three touchdowns with no interceptions. Vick also rushed four times for 30 yards and a touchdown. Both DeSean Jackson and Jeremy Maclin had great games; Jackson finished with five receptions for 153 yards and a touchdown while Maclin finished with four receptions for 83 yards and two touchdowns. The defense was tenacious as well, piling up seven sacks, 12 tackles-for-a-loss, eight deflected passes and one interception, which came courtesy of Asante Samuel. Overall it was an outstanding performance for the Eagles, who improved to 2-1 on the season and 2-0 with Vick as a starter.
Three Key Storylines for the Eagles:
Consistency is the name of the game for Henery.
Photo Courtesy: philly.com
The quarterback competition is over, but that doesn't take away the spotlight that is on the offense. There have been several times throughout the past two games where the Eagles had a nice drive going only to see it end in a turnover. Turning the ball over four times in two games isn't necessarily a bad thing, but it's definitely an area that can be improved upon. In order to win in the NFL, a team has to avoid turning the ball over. The Eagles won't win many games this season if they continually turn the ball over in the opposing team's territory. The offense has racked up over 800 yards of offense over the past two games (averaging at least 400 per game), but only have 36 points to show for it. If the turnover ratio wasn't -4, perhaps some more points could have been scored. Although the offense doesn't really have any control over it, it would be nice to see Alex Henery get some work in against the Jags. He missed his only field goal attempt of the preseason last Thursday, and while he's been doing well in practice, he could be doing a lot better. He's not at risk of losing his job, but it's common knowledge that one of the biggest aspects of any team is the performance of its special teams unit. If Henery can't consistently make field goals, this team won't be going anywhere.
Although the quarterback competition is over, Michael Vick will still need to perform well Saturday night. So far, he's completed 13 of his 15 pass attempts for 199 yards and one touchdown; simply put, Vick has been nearly flawless. Vick says that he looks forward to each practice or game much more than he has in previous years, which goes to show the impact that Chip Kelly's QB competition had on him. If Vick was simply handed the starting QB job several months ago, one can only wonder whether he'd be performing as well as he is. Regardless, Vick will most likely have the entire first half to show Kelly what he can do as a starter. I wouldn't be surprised to see some rushing plays (such as some QB Draws, bootlegs, or even the Read-Option) instilled in the playbook for Vick this week as well. Fellow QB Nick Foles has actually rushed for more yards than Vick over the past two games, but Vick presumably will finally get his chance to show why he can still be one of the best dual-threat QB's in the league. It's important that Vick gets at least some rushing attempts in on Saturday, as he'll be doing a lot more of it during the regular season (Kelly's QB at Oregon in 2012, Marcus Mariota, had 336 passing attempts to go along with 106 rushing attempts, not very common for a QB). He's not a bust, but he hasn't impressed recently.
Photo Courtesy: insidetheiggles.com
The secondary has slightly improved over the past few weeks, but it's still a mess. Both safety positions are seemingly still ripe for the taking, although Patrick Chung has performed well over the past two games. Despite Chung's performance, neither Nate Allen, Kurt Coleman, Earl Wolff or Kenny Phillips (who has been injured) has really impressed. If I had to give the starting nod to any of the four aforementioned players, I'd probably give it to Allen based on his potential and his ability (people forget that Allen was performing well before his injury in 2010), but he'll have to really impress over the next two games if he wants to earn the starting nod from Kelly and defensive coordinator Billy Davis. The cornerback situation is a bit more settled, but there are several players still fighting for starting spots. Due to his experience and the fact that he was on the Ravens last season, Cary Williams probably has one of the CB spots locked down. After him, however, it's essentially a free-for-all. Brandon Boykin, Bradley Fletcher and Curtis Marsh among others still believe they have a shot to start opposite Williams. Boykin impressed during Training Camp but hasn't really made a statement during the past two games; the same goes for Fletcher and Marsh. Once again, if I had to give the nod to one of the three aforementioned players, I'd give the spot to Fletcher solely because of his experience and keep Boykin in the slot; anything can happen though.
Three Key Storylines for the Jaguars:
There's not an abundance of star talent on the Jaguars, but the offense has perhaps the lone star on the team. Maurice Jones-Drew is coming off of an Lisfranc injury that ended his season early last year, and is perhaps the one man to watch on this team. Before his injury, MJD was one of the better backs in the league due to his agility, explosiveness and exceptional speed. In fact, MJD is so confident in his abilities that he has offered
some advice for fantasy football players
: pick him number one. When you think about, why shouldn't he be confident? Take a look at his stats below:
The offensive line he ran begin wasn't exactly the cream of the crop either, so to rush for over 1,000 yards for three consecutive seasons while being one of the team's top receivers is a big accomplishment. He's about as fun to watch in the open field as LeSean McCoy is, so when he is handed the ball, make your best effort to watch what he can do.
Blackmon has great potential.
Photo Courtesy: gridironfans.com
While they aren't exactly as well known as Jones-Drew, the Jaguars starting wide receivers have the potential to be big play-makers opposite each other. Justin Blackmon and Cecil Shorts III are two of the better up-and-coming receivers in the league. They have great speed and can make a catch anywhere on the field. I'd compare both of them to DeSean Jackson and Jeremy Maclin. With a decent quarterback, the two WR's could consistently be among the top 20 or 30 in the game. However, that's the problem. One of the Jaguars worst positions is quarterback, where they have first round bust Blaine Gabbert (who was named the starter earlier in the week but was ruled out for the rest of the preseason) and Chad Henne, who has had glimpses of potential but really isn't much better than Gabbert. Regardless, both WR's have big play ability, so look for them to make some nice receptions over the course of the first half or so.
The defense (as one can tell by the amount of points the Jags have let up over the past two games) is atrocious. Gus Bradley is a defensive mastermind, but even he will have his work cut out for him with this team. The team's best defensive player is easily middle linebacker Paul Posluszny, the seventh year man out of Penn State. He's best described as a ball-hawking linebacker, and his stats show it:
No matter what team you're on, accumulating 106 tackles in one season is a great accomplishment. He's quick, he's agile, and he rarely misses a tackle. Linebacker is one of the few positions where the Jaguars seemingly have a strength at; Posluszny is the main reason why. When the Eagles have the ball, look for Posluszny.
Five Players to Watch for the Eagles:
He's baaaaack.
Photo Courtesy: highphive.net
Jason Peters
, OL: Due to tearing his Achilles tendon not once, but twice, Peters has been away from the NFL for roughly 20 months. However, he's received the clearance to play, and will see his first live game action since January 1st, 2012. Peters is one of the most crucial players on the Eagles roster: he's arguably the best LT in the NFL, and he aids in making the Eagles offensive line one of the better ones in the league.
Danny Watkins
, OL: Watkins is the complete opposite of Peters, and has caught the wrath of the Philadelphia fan base. He commits penalties at bad times and he's seemingly unfit to be a starter in the NFL, at least on this team. With the selection of Lane Johnson in the draft, it became clear that Watkins' days in Philadelphia were numbered. If he has a shoddy performance Saturday, he might need to start packing his bags after the game.
Ifeayni Momah
, WR: Momah isn't in the section due to what he's done in the preseason. When you think about it, Momah hasn't done anything over the past two weeks. When Momah was brought it, fans drooled at the thought of Momah catching touchdown after touchdown in the endzone due to his height advantage over most CB's (six feet, seven inches). However, Momah has not impressed anyone during the past two games, and is in danger of being cut.
Harbor needs a big game.
Photo Courtesy: sbnation.com
Clay Harbor
, TE/WR: Clay Harbor and Momah essentially coincide with each other. If Harbor catches a touchdown pass or two while avoiding any drops, while Momah catches one pass but drops a couple of passes, the latter could be cut, and vice versa. Harbor isn't going to make the team as a TE; those spots are already occupied by Brent Celek, Zach Ertz and, to an extent, James Casey. If Harbor has a big night, it should be enough to earn him a spot on the 53-man roster (or, at the very least, survive the first wave of cuts).
Jordan Poyer
, CB: Poyer was supposed to challenge for time in the nickel (similar to Brandon Boykin's role last season) during his rookie season. He was also supposed to provide explosiveness and the ability to return punts for long gains. He has done none of this over the past two weeks. I don't think Poyer would be cut due to his potential and his skill set, but he is steadily losing his chance to prove he deserves some playing time this upcoming season.
Five Players to Watch for the Jaguars:
He impressed a lot of people last season.
Photo Courtesy: AP
Cecil Shorts III
, WR: Shorts has exceptional speed and a skill set that few WR's in the NFL have. He's missed the past two games due to an injury, so this will be his first live action of the year. Shorts was doing extremely well in camp before his injury, so it should be interesting to see how he performs Saturday night. The Jaguars haven't attempted many deep passes this preseason; Shorts could change that.
Chad Henne
, QB: Blaine Gabbert has already been named the starting QB, but he is being held out of the final two preseason games with a thumb injury. Henne has the ability to overtake Gabbert (and probably will at some point during the season due to Gabbert's track record), so if he performs very well against the Eagles, he'd be doing two things: putting more pressure on Gabbert as well as helping his own case.
Mike Kafka
, QB: Remember him? Andy Reid and the Eagles front office drafted the strong armed Kafka out of Northwestern simply for more depth at the QB position. He never amounted to much; his claim to fame at this point would probably be that game against the Atlanta Falcons on Sunday Night several years back. Regardless, Kafka is fighting for a spot on the roster, and needs a great performance in the second half to overtake the man he's competing against, Matt Scott.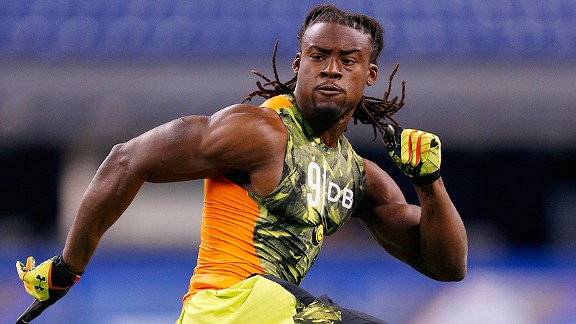 Cyprien at the Combine.
Photo Courtesy: ESPN
Jonathan Cyprien
, S: Cyprien was selected with the 33rd overall selection of the 2013 draft, and the team selected him with the intentions of inserting him into the starting lineup from day one. He made his preseason debut last week due to an injury that sidelined him for a little over two weeks, and performed fairly well apart from two penalties. He'll be facing a diverse offense, so Saturday night's game will be a good test for the rookie out of Florida International.
Luke Joeckel
, OL: A man many thought would go number one in the draft, Joeckel fell one spot to the Jaguars. He'll be their starting right tackle this season, and was performing well in camp before an injury to his hip flexor on August 2nd sidelined him. He attempted to play against the Dolphins six days later but aggravated the injury. He'll be a game-time decision, but I'd be surprised to see him sit out, as the goal is to get him enough snaps to be comfortable by the time the regular season rolls around.
Miscellaneous Information:
Last Season-
EAGLES: 4-12, last in the NFC East, missed the postseason
JAGUARS: 2-14, last in the AFC South, missed the postseason
Eagles Depth Chart:
Jaguars Depth Chart
: