by: Ryan Waldis
Follow him on Twitter
@WarRoomPHLRyan by clicking here
Watch the latest episode of the
War Room on UStream by clicking here
GET ALL OF YOUR WAR ROOM SHIRTS AND HOODIES HERE!
The Eagles have beaten two winless teams in consecutive weeks. But what does that really say about them?
It was just that kind of day for Eli two weeks ago.
Photo Courtesy: Washington Post
Entering week five, the Eagles were 1-3. They were coming off of an embarrassing 52-20 loss to the Denver Broncos, and some wondered whether or not they'd find a way to bounce back. Two weeks later, the Eagles have righted the ship. They are now 3-3, and are tied for first in the division with the Dallas Cowboys, their week seven opponent.
But who did they beat to reach .500 for the first time since week two? The Giants? They're 0-6. The Buccaneers? They're 0-5 (although they could be 4-1, but that's beside the point). Sure, the Eagles have won two consecutive games for the first time since weeks one and two of the 2012 season, but the wins haven't exactly come against top notch opponents. So, what do the past two wins really say about this team?
Well, despite the wins coming against two winless teams, the Eagles have shown that they have the ability to win the games they should win. The combined record of the teams the Eagles have beaten is 1-11. The combined record of the teams the Eagles have lost to? 15-3. Sure, that doesn't exactly inspire a lot of confidence, especially when the weeks start winding down and the postseason is closing in, but at least the Eagles aren't looking past any opponents. It's simple to look past a winless team and look ahead to a big game against a good team. The Eagles haven't done that.
That's not all, though. Over the past two weeks, I've observed three key things:
Nick Foles has the ability to lead this offense
The defense has improved
Alex Henery has returned to the kicker we thought he was
First, let's take a look at the Foles situation.
When
Michael Vick
ran out of bounds, injuring his hamstring in the process, fans (well, at least some of them) held their breath. Vick was experiencing a revival season of sorts in Chip Kelly's college-style offense, not quite like his 2010 season, but much better than his 2011 and 2012 seasons. Through four and a half weeks, Vick had completed 71 of his 132 passes for 1,185 yards, five touchdowns and two interceptions. He also had 33 rushing attempts that went for 307 yards and two touchdowns. With Vick out, second-year man Nick Foles would take over.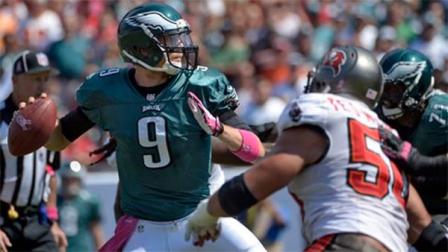 Foles looked good against a decent Tampa Bay defense.
Photo Courtesy: ABC
And boy, has he taken over. Through one and a half games (excluding the Chargers and Broncos game, of course), Foles has shown that he has the ability to lead this team to victory. Against the Giants and Buccaneers, Foles completed 38 of his 56 passes for 493 yards and five touchdowns. He did not throw an interception. Against the Bucs, Foles also accumulated a rushing touchdown, something he isn't known for. Many people assume that Chip Kelly needs a dual-threat quarterback (a la Vick) in order for his offense to run the way it did at Oregon. Nick Foles is proving that a dual-threat QB isn't necessary.
It helps to have a guy like Vick lining up under center each week, as it gives a defense someone else to worry about. Before Sunday,
LeSean McCoy
averaged just over five yards per carry when Vick was the QB. When Foles was the QB, he averaged less than four. Defenses don't have to worry about Foles breaking outside of the pocket and scrambling for big gains like they have to with Vick. It's a disadvantage, but Foles has more mobility than most people give him credit for. He rarely runs past the line of scrimmage in an attempt to gain yards, but he does have the ability to move around in the pocket and keep the play alive. Despite his lack of straight-line speed, Foles has shown us (both in the preseason and the past two weeks) that he can run this offense.
Next, let's hone in on the
defense
.
Fletcher and Williams (among others) have improved
each week.
Photo Courtesy: CSN New England
Before the season began, the Eagles defense was being touted as one of the worst in the league. For the first four weeks, they may have actually been the worst defense in the league. They let up 27 points to the Redskins, 33 to the Chargers, 26 to the Chiefs, and a whopping 52 to the Broncos. Over the past two weeks, however, the defense has shown signs of improvement. They let up only 21 and 20 points against the Giants and Buccaneers, respectively. The defensive line is beginning to see how pressuring a quarterback can lead to good things. The linebackers don't find themselves in the middle of no-mans land when they're forced to cover TE's and WR's (at least not as much as they used to). Even the secondary has improved.
Cary Williams
and
Bradley Fletcher
are by no means
Darrelle Revis
and
Richard Sherman
, but they've held their own for the most part.
Brandon Boykin
has performed extremely well.
Nate Allen
has improved (hard to believe, I know), and
Earl Wolff
is performing fairly well for a fifth round pick. The secondary has also hauled in five interceptions through six games. Last year, the secondary only managed four interceptions. It will be a while before this defense can make you feel comfortable, but it's clear that they've improved.
Finally, let's see why
Alex Henery
is no longer a question mark.
He's not a question mark anymore.
Photo Courtesy: philly.com
Oddly enough, when Henery started making field goals again (consistently, may I add), the Eagles started winning games. After missing one field goal for three consecutive weeks, Henery sat down with special teams coordinator Dave Fipp. After watching film, Henery realized what his problem was. He said that a small timing issue was the reason for the misses. He corrected the problem in practice.
"It seemed to work [week five against the Giants, where he converted all five of his field goal attempts]. Just one of those things now, keep having good practices, keep having more good days than bad days."
Henery made only seven of his ten field goal attempts through the first four weeks of the season. Over the past two weeks, he's converted all six. There was a reason the Eagles drafted the most accurate kicker in NCAA history in the fourth round several years ago. After experiencing a rough patch of sorts, Henery is showing why he's one of the better kickers in the league.
I wrote an article several weeks ago detailing how the Eagles could be 6-3 heading into their week 10 match-up against the Green Bay Packers at Lambeau via a five game winning streak against mediocre teams (you can read it
here
). They've won two straight games and, if the team keeps performing like they have during weeks five and six, there's no reason to think they won't win three more (and perhaps even more).