by: Ryan Waldis
Follow him on Twitter
@WarRoomPHLRyan by clicking here
Watch the latest episode of the
War Room on UStream by clicking here
GET ALL OF YOUR WAR ROOM SHIRTS AND HOODIES HERE!
Game Time: 1:00 PM EDT
TV: FOX
Radio: SportsRadio 94 WIP: 94.1 FM and 610 AM
Photo Courtesy: sodahead.com
It's unfortunate when a team faces a must-win game this early in the season. Even if the Eagles lose on Sunday to the winless New York Giants (falling to 1-4 in the process), chances are they'd still be just a game back of the Cowboys, who have the luck of facing the Denver Broncos this week. Still, 1-4 doesn't inspire much confidence, especially considering that the four losses would have come in consecutive weeks. The Eagles started off the season with a bang on Monday Night football against the Washington Redskins several weeks ago. During the first half of that game, the offense was flawless, the defense was tenacious, and Chip Kelly seemed like a genius.
Ever since the second half of that game started, however, the Eagles performance has declined dramatically. The offense has somewhat stalled out over the past few weeks. The defense is showing its flaws week after week. Even the kicker, who was among the most accurate in the NFL entering this season is now somewhat of a question mark. After getting blown out by
Peyton Manning
and the Broncos, the Eagles now have to dig deep to avoid losing to Eli and the lowly Giants (who, somehow, are only two games out in the NFC East. or rather, the NFC "Least"). This team has the potential to go on a five game winning streak (see why
here
), but they can't win five straight if they can't win the first one.
The Last Time They Met:
December 30th, 2012: Eagles
7,
Giants
42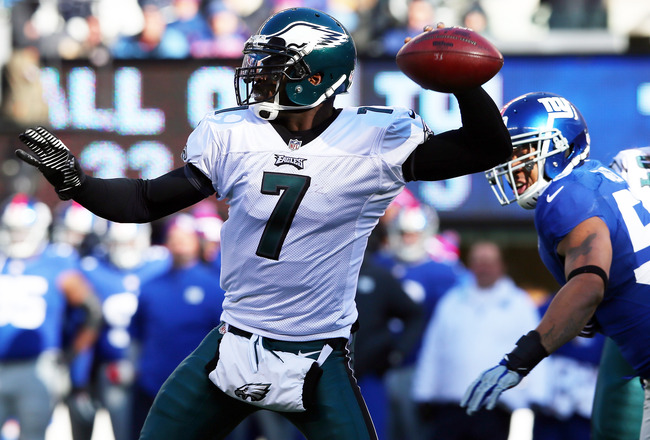 Vick didn't have a great afternoon when these teams last
met.
Photo Courtesy: Bleacher Report
The Eagles didn't give
Andy Reid
a performance to remember in his final game as their head coach.
Nnamdi Asomugha
infuriated the Philadelphia fan-base by missing tackles and blowing coverages (as he had since 2011), and was eventually taken out of the game. Of course, he wasn't the only player on the defense to play horrendously that day, but that's beside the point.
Michael Vick
completed only 19 of his 35 passes for 197 yards, one touchdown and one interception.
LeSean McCoy
managed only 45 yards on the ground.
The Giants offense, on the other hand, performed very well.
Eli Manning
completed 13 of his 21 passes for 208 yards, five touchdowns and no interceptions.
Ahmad Bradshaw
carried the ball 16 times for 107 yards and a touchdown.
Justin Tuck
managed to get a sack. It was a great performance by the Giants, but they would miss the playoffs a year after winning the Super Bowl, finishing with a record of 9-7. The Eagles finished 4-12, and Andy Reid would be fired several days later.
Who Holds the Edge?
Offense
: Despite stalling out over the past two weeks, the
Eagles
still hold an advantage over the Giants, and it's not even close. He's playing behind a surprisingly inconsistent offensive line, but Vick has performed fairly well over the first four games. Here's what Bryn Swartz (Bleacher Report) has to say about Vick's performance thus far:
"Let's look at the positives. Vick is leading the league in yards per completion and ranks second in yards per pass attempt. He's thrown five touchdowns against just two interceptions, good for a passer rating of 93.2. And he's rushed for 228 yards and two touchdowns on a league leading 8.8 yards per carry. He's also led the Eagles to the 12th highest scoring offense in the league despite playing with a struggling offensive line and without his second-best receiver."
Of course, it hasn't been a perfect season for Vick. Here's what Swartz says about the negatives:
"Vick is completing just 55.2 percent of his passes. He's still turned the ball over four times in four games. He's taken 14 sacks and he's holding on to the football longer than any other quarterback. He's also been very inconsistent and he's especially been prone to the same poor decision making he's been making his whole career."
The positives far outweigh the negatives, and Vick is not the reason the Eagles are 1-3 right now. Look for him to bounce back against a questionable New York pass defense.
Some other notables for the Eagles:
Rushing:
LeSean McCoy- 78 attempts, 468 rushing yards, two touchdowns
Receiving:
DeSean Jackson
- 21 receptions, 393 yards, two touchdowns
The Giants, on the other hand, have a terribly inconsistent quarterback at the helm in Eli Manning. He wasn't always this bad. For some reason though, Manning is on pace for his worst statistical season as a pro. Here is what Reuben Frank (CSN Philly) stated about Manning's performance thus far:
"Among 26 quarterbacks who've thrown 100 passes this year, Manning ranks 25th in completion percentage (56.3 percent, only ahead of Michael Vick), 24th with a 69.1 passer rating (ahead of Geno Smith and Christian Ponder) and first with nine interceptions, one more than the Jets' Smith... But Manning is statistically one of the worst QB's in the NFL so far. Among the quarterbacks completing a higher percentage of their passes: Brian Hoyer, EJ Manuel, Nick Foles, and Geno Smith."
Similar to Vick, the Giants problems aren't all Manning's fault. Their running game is non-existent, their offensive line is terrible, and their defense can't stop anyone. The Giants used to be able to set Manning up for success by utilizing their impressive run game. They can't do that anymore, and that's really hurting Manning. He'll have a decent game (especially against the Eagles secondary), but in the long-run, Manning will have trouble keeping his team in games.
Some other notables for the Giants:
Rushing:
David Wilson
- 38 attempts, 130 yards, zero touchdowns
Receiving:
Victor Cruz
- 26 receptions, 425 yards, four touchdowns
Defense
: Let's call this one a draw, as both defenses are atrocious. The Eagles defensive line has improved since the start of the season. They're not really getting as much sacks as you might like them too, but in a 3-4 defense, the d-line is relied on more often than not to stop the run, as they typically go up against two offensive linemen.
Fletcher Cox
has been a pleasant surprise, as has
Vinny Curry
. Even
Cedric Thornton
and Issac Sopoaga have had their share of good plays.
The linebackers are probably the strength of this defense. It starts outside with
Connor Barwin
and
Trent Cole
. Barwin can always be seen running around, trying his best to get to the guy with the ball. He has a high
motor, which is definitely a good thing. Cole has also been trying his best to adjust to playing a completely different position than what he's accustomed to. For the most part, he's done well. He's been able to create pressure off of the outside, although he doesn't have a lot of sacks to show for it yet.
DeMeco Ryans
and
Mychal Kendricks
anchor the inside, and have played well. Kendricks has had a few miscues, but he's quietly becoming one of the leaders of this Eagles defense.
We've seen way too much of this from Allen.
Photo Courtesy: fansided.com
The secondary, of course, is the one problematic area of the unit.
Cary Williams
and
Bradley Fletcher
are average with the potential to perhaps be above-average, but they haven't really been able to shut down opposing WR's yet.
Brandon Boykin
has played well but Chip Kelly and
Billy Davis
are hesitant to give him a spot on the outside.
Nate Allen
has played like we thought he would,
Patrick Chung
has battled injuries, and
Earl Wolff
has made some rookie mistakes (although he is very eager to learn and seems to have a lot of potential). Just another day with the Eagles defense.
Some notables for the Eagles
:
Tackles:
DeMeco Ryans- 27 solo tackles, nine assists, 36 total tackles
Sacks:
Connor Barwin and Fletcher Cox- two sacks
Interceptions:
Cary Williams and Brandon Boykin- one interception
The Giants defense hasn't been much better either (in fact, it seems to be worse). They've let up a combined 146 points in four games (an average of 36.5 per game) and don't seem to be improving anytime soon. The defensive line of Justin Tuck, Linval Jospeh,
Cullen Jenkins
(they also have
Mike Patterson
), and
Jason Pierre-Paul
is one of the more talented lines in the league, but they've failed to create any pressure, managing only three combined sacks.
Mr. Rolle thinks the Giants can
finish 12-0.
Photo Courtesy: nj.com
The linebackers have played better than the defensive linemen, but probably not better than the secondary although that might be stretching it.
Spencer Paysinger
and Mark Herzich are both among the top five on the team in terms of total tackles; combined, they have 49.
Keith Rivers
hasn't played as well as the aforementioned linebackers, racking up only eight tackles.
The Giants secondary is actually one of the better ones in the league.
Corey Webster
and
Prince Amukamara
are the starting cornerbacks while
Antrel Rolle
and
Ryan Mundy
are the starting safeties. Mundy, Amukamara, and Rolle rank first, third, and fifth respectively on the team in terms of total tackles (for those keeping score at home, Webster ranks 11th).
Some notables for the Giants
:
Tackles
: Ryan Mundy- 17 solo tackles, nine assists, 26 total tackles
Sacks
: Spencer Paysinger, Jason Pierre-Paul, and
Mathias Kiwanuka
- one sack
Interceptions
: Mundy, Prince Amukamara,
Aaron Ross
- one interception
Special Teams:
After being one of the more reliable kickers in the NFL over the past couple of seasons,
Alex Henery
has suddenly become a bit of a question mark. He's made only seven of his ten field goals, and has missed one field goal in each of the past three games. He has said that he has figured out what the problem was; one can only hope that he has.
Donnie Jones
has done an excellent job when called upon, averaging 42.8 yards per punt. The return team hasn't done anything special.
Josh Brown
has also experienced some struggles in New York; he's converted only four of his six field goal attempts and his leash with head coach Tom Coughlin may be getting shorter with each miss.
Steve Weatherford
is averaging 47.2 yards per punt, one yard shorter than Jones. As with the Eagles, the Giants return game hasn't done anything special.
Score Prediction:
Eagles
41
, Giants
24
Call it being highly optimistic, but this Eagles offense will be clicking from the opening drive. They'll score, score, and score some more. Michael Vick will bounce back to have a big game, LeSean McCoy will have an easy day against the Giants defense, and
Brent Celek
(yes, Brent Celek) will have his best game of the season. The Eagles will put pressure in Eli's face all game, causing several turnovers. The win will right the ship for the Eagles and give them the momentum they need moving forward.
Ryan's Player of the Game
: DeSean Jackson