by: Ryan Waldis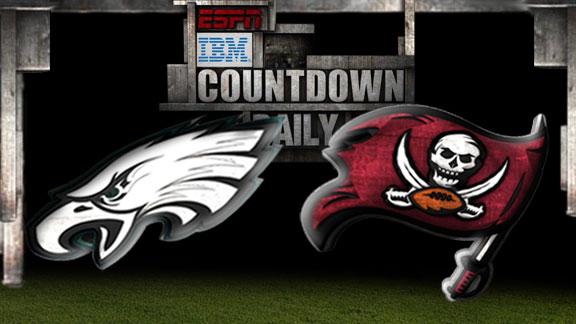 Photo Courtesy: ESPN
Through some miracle, the Eagles enter week six of the 2013 season tied for first in the NFC East (or, rather, the NFC "Least") with a record of 2-3. They've defeated the Redskins (who have one win) and the Giants (who are still winless after their loss to the Chicago Bears on Thursday Night). Now, the Eagles have an opportunity to move to .500 on the season as they take on the winless Tampa Bay Buccaneers.
Michael Vick
will not be the starter due to the hamstring injury he sustained while running out of bounds last week (yes, he got injured doing something the entire fan base wants him to do). For 60 minutes,
Nick Foles
will have an opportunity to prove why he can be a starter in this league. He certainly doesn't draw an easy task in his first start of the season, as he will go up against a Tampa Bay defense that is anchored by CB
Darrelle Revis
and S
Mark Barron
. This game will be much more low scoring than we're accustomed to seeing, so prepare to see more punts than you'd probably like. One of the best offenses is going up against one of the best defenses, while one of the worst offenses is going up against one of the worst defenses. If the Bucs win, it'll be because of their offense. If the Eagles win, it'll be because of their defense.
The Last Time They Met: December 9th, 2012: Eagles 23, Buccaneers 21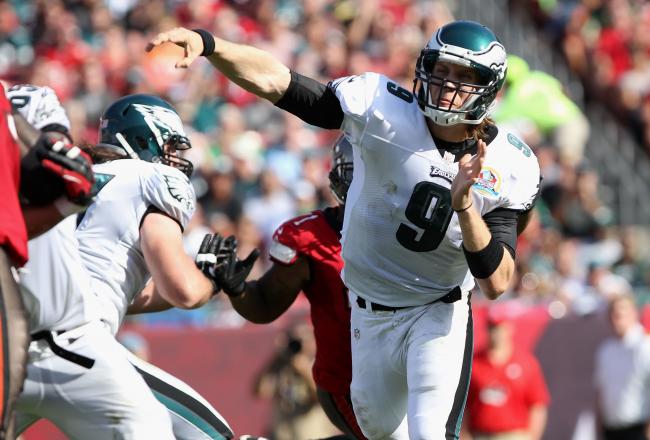 Foles and the Eagles came out on top last season.
Photo Courtesy: Bleacher Report
In what would his first career win (and the Eagles final win of the 2012 season), Nick Foles proved to everyone that he could be the starter of this franchise for years to come. He essentially did everything himself, as the Eagles managed only 29 rushing yards on 16 attempts. Despite having to put the game into his hands, Foles was on-the-money all throughout the game. He finished with 32 completions on 51 attempts for 381 yards, two touchdowns and zero interceptions. He also led the team in rushing (that's not a typo) with 27 yards and a touchdown on three attempts. The highlight of the game came late in the fourth quarter. Foles and the offense started at thier own 36, but managed to put up six points as time expired, with Foles connecting with
Jeremy Maclin
on a one yard TD pass.
The Bucs, unlike the Eagles, had a potent rushing attack. Rookie
Doug Martin
led the way with 128 yards and a touchdown on 28 attempts.
Josh Freeman
overcame a slow first half to finish with 14 completions on 34 attempts for 189 yards, two touchdowns, and zero interceptions. His favorite target on the day was
Vincent Jackson
, who hauled in six passes for 131 yards and one touchdown (
Mike Williams
had the other TD reception). The loss (their third straight) dropped the Bucs to 6-7.
Who Holds the Edge?
"Who can stop me?"
Photo Courtesy: nfl.com
Offense:
The Eagles offense is led by perhaps the best player at his position through five weeks, running back
LeSean McCoy
. Despite rushing for negative yards in the second half of the Giants game, McCoy still has a strong stat-line of 514 yards and 3 touchdowns on just 98 rushing attempts. He also has 13 receptions for 186 yards. He's gone over 150 yards twice this season and, if it wasn't for
Peyton Manning
, McCoy could be in the conversation for the MVP award.
With Michael Vick out with a hamstring injury today, all eyes will be on Nick Foles. His career didn't start off the way he would've liked, as he had only thrown for one touchdown while throwing two interceptions. Since then, however, Foles has thrown for eight touchdowns and just two interceptions. After coming in the game to relieve Vick last Sunday, Foles performed well, completing 16 of his 25 passes for 197 yards, two touchdowns and zero interceptions. He also added a rushing touchdown to his stats.
DeSean Jackson
will be covered by Darrelle Revis for majority of the game, so expect to see a lot of checkdown passes from Foles today.
Doug Martin is one of the better RB's in the NFL.
Photo Courtesy: USA Today
The Buccaneers offense is led by Doug Martin, a very talented RB. Martin burst onto the scene last year, earning Pro Bowl honors in his rookie season. He finished the season with 1,454 rushing yards and 11 touchdowns on 319 attempts; he also hauled in 49 passes for 472 yards and a touchdown. Last season against the Eagles, Martin rushed for 128 yards and a touchdown on 28 attempts, so expect to see a lot of him today, especially with the Bucs problems at the quarterback position.
Mike Glennon
will be making his second career start on Sunday. The Bucs drafted him so he could learn from Josh Freeman and perhaps become their starter in the future, but Glennon was forced into the starting QB role after the team released Freeman last week. In his first start against the Arizona Cardinals, Glennon completed 24 of his 43 passes for 193 yards, one touchdown and two interceptions in a 13-10 loss. He has weapons in Vincent Jackson and Mike Williams, but if he has trouble finding them today, he could be in for a rough day.
EDGE:
Eagles
Defense
: The Eagles defense is ranked 31st in the league. They're letting up over 30 points per game and over 400 yards per game. The upside? They're playing the 31st ranked offense in the league today. If the Eagles can't keep the Buccaneers offense (who are scoring a hefty 11 points a game) out of the endzone, that's a problem. For all the talk of how the offense will need to score lots of points to win each week, that's not the case today. The defense will need to win this game for the Eagles, not the offense.
Cedric Thornton
, Issac Sopoaga (or
Bennie Logan
), and
Fletcher Cox
will need to create consistent pressure and stop Doug Martin from bursting through the line play after play.
Connor Barwin
,
Mychal Kendricks
,
DeMeco Ryans
, and
Trent Cole
will need to be excellent in coverage and aid the d-line in creating pressure.
Bradley Fletcher
,
Nate Allen
,
Patrick Chung
(and/or
Earl Wolff
), and
Cary Williams
will need to eliminate any passing lanes for Glennon. If all of that happens, the Eagles will win. If it doesn't, they'll lose. Simple.
Revis is one of the best CB's in the league.
Photo Courtesy: thewhistle.com
The Buccaneers defense, on the other hand, is actually pretty good. Their defensive line of
Daniel Te'o-Nesheim
(remember him?),
Gerald McCoy
,
Akeem Spence
, and
Adrian Clayborn
are fast off the line, and have the ability to create consistent pressure. The Eagles offensive line has improved each week, but they may be facing one of their toughest tasks yet. The linebackers for the Bucs have also performed fairly well.
Lavonte David
,
Mason Foster
, and
Dekoda Watson
are capable of rushing the quarterback and stopping the run (the defense has allowed just over 100 rushing yards per game, and have yet to allow a 100 yard rusher). As you can see, their d-line and LB's are talented, but the Bucs secondary anchors the defense. Darrelle Revis, Mark Barron,
Dashon Goldson
, and Jonathan Banks would make life tough for any QB in the NFL, let alone a second year QB making his seventh career start. They've allowed just 238 passing yards per game, so it will be interesting to see how Chip Kelly attacks them.
EDGE:
Buccaneers
Special Teams:
Alex Henery
silenced his critics, converting all five of his field goal attempts last Sunday. Although none of the attempts were longer than 41 yards, Henery showed why he's been one of the more reliable kickers in the NFL over the past couple of seasons.
Donnie Jones
is 28th in the league in net average (37.3 yards per punt), but he's had nine of his 23 attempts land inside the 20.
Rian Lindell
has converted only three out of his five field goal attempts, missing from 38 and 47 yards.
Michael Koenen
doesn't allow punt returns very often (only five of his 24 punts have been returned), so
Damaris Johnson
won't be getting much action today.
EDGE:
Even
Score Prediction
: Eagles
23
, Buccaneers
21
Yes, this is the final score from last season, but this score is realistic. The Eagles won't score 30 points against this defense, and the Buccaneers won't score a lot due to their mediocre offense. Nick Foles will have another exceptional game against the Bucs, although we won't be seeing a last-second TD pass to win the game again. McCoy will become the first RB to rush for 100 yards against the Bucs, and Henery will make all three of his field goal attempts. Doug Martin will rush for 100 yards, but Glennon will struggle, and the Bucs will fall to 0-5, while the Eagles improve to 3-3 heading into next week's crucial game against the Dallas Cowboys.
Ryan's Player of the Game:
Nick Foles