by: Ryan Waldis
Follow him on Twitter @WarRoomPHLRyan by clicking
here
Watch the latest episode of the War Room on UStream by clicking
here
Get your War Room apparel by clicking
here
Photo Courtesy: cinesport.philly.com
Announcers: Joe Buck and Troy Aikman
When the schedule makers were creating the NFL schedule back in the spring, they thought fans would see a match-up between
Michael Vick
and
Matt Flynn
when the Eagles and Raiders met up in a week nine match-up. Wrong. The schedule makers also though fans would be treated to a Vick-
Aaron Rodgers
showdown when the Eagles traveled to Lambeau for their 10th game of the season. Wrong. Again.
Instead of the Eagles week 10 match-up against the Green Bay Packers featuring two highly talented quarterbacks, it will feature an unknown and a veteran who hasn't done much of anything over the past few seasons. I'm talking about
Nick Foles
and
Seneca Wallace
, of course. Foles is coming off of an outstanding performance in which he tied the NFL record for seven TD's in a single game. Wallace, on the other hand, is coming off of a sub-par performance in which he had to fill in for Rodgers after the latter injured his collarbone. Before Eagles fans chalk this up as an easy win, I have two words for you:
Joe Webb
.
The Last Time They Met:
January 9th, 2011 (Wild Card Round)- Packers
21
, Eagles
16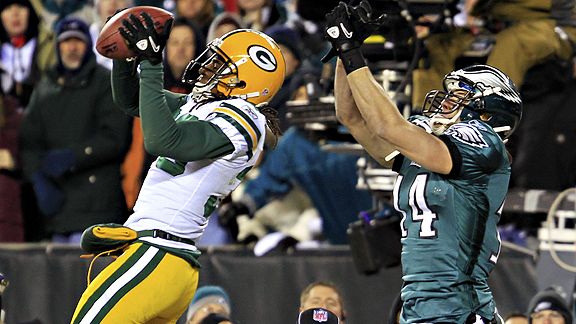 The pass that ended the Eagles season.
Photo Courtesy: ESPN
Coincidentally, this game was just two weeks after that horrific Joe Webb game. The Eagles didn't look very good from the start, and the Packers were able to take advantage, advancing to a divisional round match-up against the Atlanta Falcons. For an offense that was supposedly one-dimensional, the Packers received a nice boost from seldom-used rookie RB
James Starks
. He carried the ball 23 times for a total of 123 yards, and gave the Eagles run defense fits all day. Aaron Rodgers completed 18 of his 27 passes for 180 yards and three touchdowns with no interceptions.
The Eagles had a chance to take the lead late in the fourth quarter, but on a 1st-and-10, Michael Vick threw a ball into the endzone that was picked off by
Tramon Williams
, essentially ending the game. "I feel like I got greedy and took a shot at the endzone," said Vick. "I didn't throw the ball I wanted and got picked. It's not the way I wanted to go out, but I went down swinging. I have to learn from it."
Who Holds the Edge?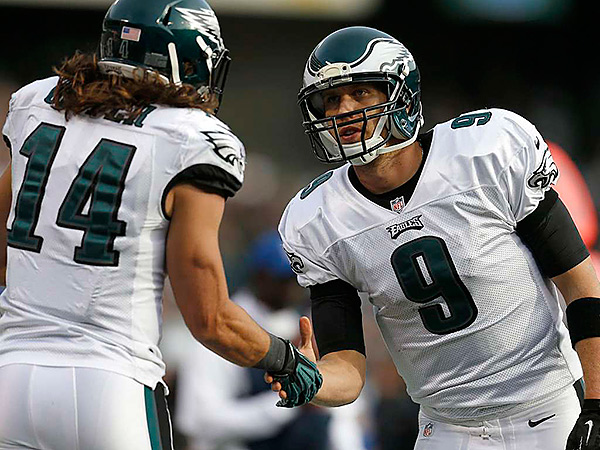 A nice combination.
Photo Courtesy: philly.com
Offense:
The Eagles offense has suddenly become a bit one-dimensional.
LeSean McCoy
still leads the league in rushing with 777 yards, but he hasn't been much of a factor without Vick in the starting lineup. Over the past five games, McCoy has failed to produce consistent results. There is one exception: that game against Tampa Bay where he rushed for 116 yards, but that team is terrible anyway. It seems that the only logical reason
McCoy
's production has dwindled centers on the quarterback. When Vick was the starter, McCoy averaged 5.7 yards per carry. When Nick Foles and
Matt Barkley
have been under center, that number has dropped to 3.4 yards. Defenses are bringing one safety into the box, making it tougher for McCoy to find any room to run.
Perhaps with Foles' performance against the Raiders, defenses will be reluctant to keep one safety inside the box. Foles is trying his best to prove that he can be the QB of this franchise for many years to come. He's extremely accurate and doesn't throw interceptions; he's completed 67.2 percent of his passes and has thrown 13 TD's to zero INT's. He's averaging 8.71 yards per attempts, and he has shown the ability to evade pressure inside the pocket.
Riley Cooper
has seen an expanded role in the offense since Foles became the starter; he has 12 catches and four TD's with Foles as the QB.
Lacy is performing well this year.
Photo Courtesy: Philadelphia Eagles
The Packers suddenly have a decent rushing attack. Rookie
Eddie Lacy
and James Starks (remember him?)
were taking some of the load off of Rodgers before his injury. Lacy has rushed for over 500 yards in his last five games, including 150 last week. Lacy is considered a power back, and isn't afraid to run over a couple guys who get in his way.
The loss of Aaron Rodgers may or may not hurt the Packers offense; only time will tell. Seneca Wallace, at least for one game, will try to be an effective fill-in as Green Bay will try to stay in the playoff hunt.Wallace completed 11 of his 19 passes last Monday but only threw for 114 yards. Wallace does have two strong receiving options in
Jordy Nelson
and
James Jones
, and an emerging option in
Jarrett Boykin
. Wallace is 5-11 in his career as a starter, but he did beat the Eagles a few years ago as a member of the Seattle Seahawks.
EDGE:
Eagles
The Eagles will most likely have to deal with this man.
Photo Courtesy: prosportsblogging.com
Defense:
The Eagles defense turned in yet another solid performance against the Raiders last Sunday, letting up 20 points (although seven of them were allowed with about a minute to go in the fourth). After a bit of a rough start to the season, this defense is truly coming together. Forget that they're ranked dead last in the league; that simply doesn't tell the whole story. The Eagles run defense has performed extremely well this year. Despite allowing 210 rushing yards last week (94 came courtesy of several QB runs), they still have the 15th best run defense. Their pass defense does have its weaknesses (and they seem to show every week), but overall they've improved each week. They haven't given up a TD pass in two weeks, and have limited opposing QB's to a 68.6 passer rating over the past five weeks.
The Packers defense is a bit more consistent, even with the injury to star linebacker
Clay Matthews
' thumb. They're ranked ninth in the league overall and, like the Eagles, pride themselves on their run defense, which is ranked fourth in the league. Their pass defense is ranked 15th in the league and even though one of Matthews' hands will be heavily wrapped up, he still provides a big boost to a pass rush that could desperately use one.
EDGE:
Packers
Special Teams
: The Eagles used a different combination last week in terms of returners.
DeSean Jackson
handled punts while
Brandon Boykin
handled kickoffs. Both performed fairly well: Jackson had a 32 yard return while Boykin had a 41 yard return that might have been a touchdown had he not run into his own teammate (
Chris Polk
). 17 of
Donnie Jones
' 49 punts have landed inside the 20.
Alex Henery
has converted 14 of his 18 field goal attempts, and has recorded a touchback on 19 of his last 31 kickoff attempts.
Micah Hyde
handled the punt returns for the Packers while a number of players handle the kickoff return duties. Hyde has returned the ball 12 times for a total of 198 yards, including a long of 93 and a touchdown. 11 of
Tim Masthay
's 30 punts of landed inside the 20.
Mason Crosby
has converted 19 of his 21 field goal attempts, including two from 50-plus yards.
EDGE:
Even
PREDICTION:
The Eagles have a great opportunity to catapult themselves back into the NFC East race this weekend. Well, I guess they're kind of still in it, but I don't like that a 4-5 team is in the race. With a win (and a Cowboys loss to the New Orleans Saints), both teams would enter week 11 at 5-5. Pathetic, I know, but still: first place is first place.
Nick Foles won't throw for seven touchdowns again (obviously) but I do believe he'll throw for at least three. LeSean McCoy will break out of his slump and rush for at least 80 yards, and
Riley
Cooper will have yet another decent game. Seneca Wallace will perform adequately, but it won't be enough to defeat the Eagles, who will head into their week 11 match-up against the Washington Redskins on a two game winning streak.
Score:
Eagles
31
, Packers
24
Ryan's Player of the Game:
Nick Foles