by: Ryan Waldis
Follow him on Twitter @WarRoomPHLRyan by clicking
here
Watch the latest episode of the War Room on UStream by clicking
here
Get some War Room apparel by clicking
here
Photo Courtesy: raiders.com
They haven't scored as much points as we have. They are last in their division. They have played one less game than we have but despite all of that, the Oakland Raiders are
technically
(we're talking winning percentage) better than us. The Flyers finally won last night. The Sixers are giving us something to cheer about. The Phillies spending spree may begin in a few days. Let's see if the Eagles can win, and keep the positive vibes going.
The Last Time They Met:
October 18th, 2009: Eagles
9
, Raiders
13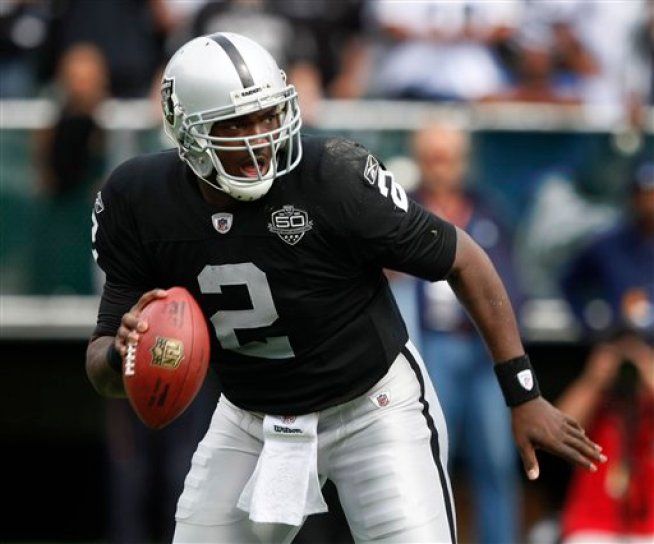 This man actually performed well the last time these
two teams met.
Photo Courtesy: NBC Bay Area
JaMarcus Russell
led the Raiders to the win against the Eagles four years ago. Okay, maybe he wasn't the only reason the Raiders won that day, but he actually performed fairly well. He completed 17 of his 28 passes for 224 yards, one touchdown (the only one of the day for both teams) and two interceptions.
Justin Fargas
was able to control the clock by carrying the ball 23 times for 87 yards, and
Zach Miller
had an 86 yard TD reception thanks to two key blocks by rookie WR
Louis Murphy
.
The Eagles were under constant pressure from the Raiders defense all day and were never able to get anything going, managing only three field goals (he also missed two others).
Donovan McNabb
completed 22 of his 46 passes for 269 yards, no TD's and no INT's.
Brian Westbrook
only carried the ball six times for 50 yards, as the Eagles abandoned the run game early.
DeSean Jackson
was the team's leading receiver, hauling in six passes for 94 yards.
The loss dropped the Eagles to 3-2 while the Raiders improved to 2-4.
Who Has the Edge?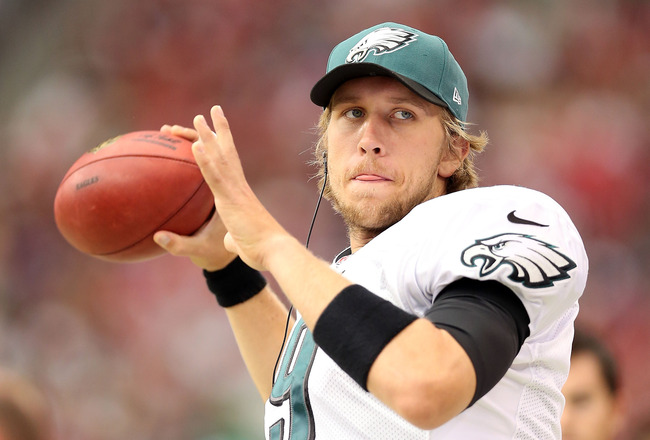 He's baaaaack... again...
Photo Courtesy: Bleacher Report
Offense:
The quarterback carousel will continue for yet another week, and this week
Nick Foles
will get the start.
Michael Vick
was deemed ready last week and was cleared to play, but was eventually taken out of the game after re-aggravating his hamstring injury. Foles performed well early in the season against the Giants and Buccaneers, completing 38 of his 56 passes for 493 yards, five touchdowns and zero interceptions. He even managed to create a brief QB controversy. However, many of the people on the Foles Bandwagon quickly jumped off after his performance against the Cowboys. Through roughly three quarters, Foles completed 11 of his 29 passes for just 80 yards, no touchdowns and no interceptions. Foles and the coaching staff have supposedly watched film to see what went wrong, and it is to be assumed that we won't see another terrible performance like that from Foles again. Foles seemed to have built a decent chemistry with WR
Riley Cooper
, so it wouldn't surprise me to see Cooper perform well this afternoon.
Despite his struggles over the past four weeks,
LeSean McCoy
still leads the NFL in rushing. Through eight games, he has accumulated 733 rushing yards and three touchdowns. However, he has only rushed for over 100 yards once since week four (week six against the Bucs) and has only rushed for over 60 yards once since week five. It's widely assumed that the constant changes at the QB position could be affecting
McCoy
, and that's probably the most logical reason. McCoy is too good of a running back to be performing like he is, look for him to have a big game today.
He's not like the old number two they had, that's for sure.
Photo Courtesy: CBS Sports
The Raiders situation at QB is a bit more stable. After taking over for
Matt Flynn
earlier in the season,
Terrelle Pryor
has impressed many people around the league. Through seven games, Pryor has completed 99 of his 157 passes for 1,149 yards, five touchdowns and seven interceptions. He also leads the team in rushing yards, with 391 on 53 carries. He's been sacked 22 times (to compare, all three of the Eagles QB's have only been sacked 23 times combined) so his offensive line isn't very good. Still, he's made the Raiders an exciting team to watch this season (they're actually only one game out of a Wild Card spot in the AFC), and he could very well be their QB of the future if they can improve the o-line and get a big-play WR for him.
The Raiders have
Darren McFadden
at RB, and while he's very agile and explosive, he's been too injury-prone to be consistent in this league. He's been injured for parts of this season, and because of that he's only gotten 340 yards on 93 carries. When he's healthy, he's a guy you have to look out for though.
EDGE:
Eagles
Expect to see some more of Logan today.
Photo Courtesy: Bleeding Green Nation
Defense:
The Eagles lost last week, but the defense performed well yet again. They gave up a grand total of 15 points. Yes, they only let up five field goals. Despite giving up that crucial third down conversion on
Eli Manning
's pass to TE
Brandon Myers
, the defense performed very well. The secondary has improved each week (it gets boring to read that again and again, but it's true).
Nate Allen
's job was on the line at the start of the season, but now he's playing like he belongs here.
Earl Wolff
is learning on the fly and doing a pretty good job, considering the circumstances. Even the CB's (
Cary Williams
,
Bradley Fletcher
and
Brandon Boykin
) are playing better than Nnamdi Asoumugha and Dominque Rodgers-Cromartie did last season. The linebackers have grown together, and, in my eyes, have performed the best of all three defensive units this season. With the trade of NT Issac Sopoaga earlier in the week, expect to see a lot more of
Bennie Logan
and
Vinny Curry
today.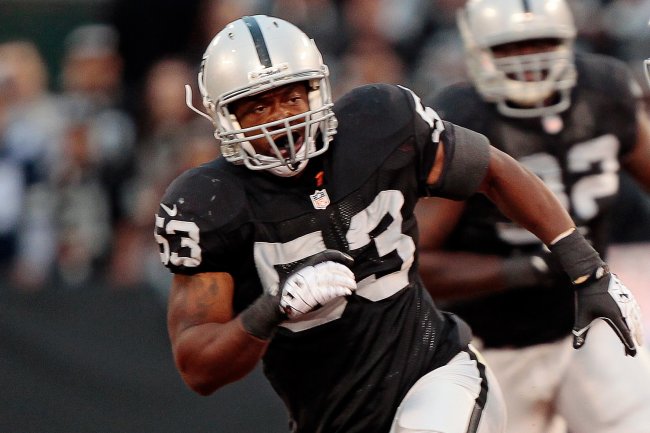 Roach is one of the better LB's in the league this season.
Photo Courtesy: Bleacher Reports
The Raiders defense, statistically, has been one of the best in the league this season (they're ranked 10th through eight weeks). They've only let up 150 total points (to compare, the Eagles have let up 211), which has kept them in the playoff hunt to this point. Their run defense is ranked seventh, and they're the only team in the NFL who has not let up a run of 19 or more yards yet. They're letting up, on average, just 88.9 rushing yards per game, so McCoy will have his work cut out for him. Their one weakness may be against the pass, as they're ranked 17th in the league, letting up an average of 241.0 yard per game. With those numbers, one would assume that Foles should have a decent day. However, Foles passed for only 80 yards against a terrible Cowboys defense, so anything is possible. The Raiders leading tackler is LB
Nick Roach
, who has accumulated 51 total tackles thus far.
Lamarr Houston
leads the team in sacks with four, and there are five players who are tied for the team lead in interceptions with one:
Tracy Porter
,
Charles Woodson
,
Mike Jenkins
,
D.J. Hayden
, and
Usama Young
.
EDGE:
Raiders
Special Teams:
Alex Henery
has regained his consistency, and after a rough start to the season he has converted 14 of his 18 field goal attempts, with a long of 48.
Donnie Jones
' punts have traveled an average of 45.3 yards, with a net average of 39.4. 15 of his 43 punts have landed inside the 20. Their main returner is
Damaris Johnson
.
Sebastian Janikowski
has converted seven of his 11 field goal attempts, with a long of 50. He has one of the most powerful legs in the league, and is still capable of making field goals that are longer than 50 yards.
Marquette King
's punts have traveled an average of 48.9 yards, with a net average of 41.3. Eight of his 41 punts have landed inside the 20. Their main returner is
Jacoby Ford
.
EDGE:
Raiders
Score Prediction
: Eagles
27
, Raiders
24
I looked back through all of my score predictions this year, and have come to the conclusion that I'm pretty biased when it comes to this section. I'm 4-4 so far this year, but I have only picked the Eagles to lose once (when they played the Broncos). I'm sure that at some point or another I'll pencil them in for a loss. Just not this week. I think Nick Foles will rebound from a tough performance against the Cowboys and have a good game. I also think LeSean McCoy will break free of his struggles and rush for over 100 yards. Terrelle Pryor will piss Eagles fans off, but in the end it won't matter what he does.