by: Ryan Waldis
Follow him on Twitter @WarRoomPHLRyan by clicking
here
Watch the latest episode of the War Room on UStream by clicking
here
Purchase some War Room apparel by clicking
here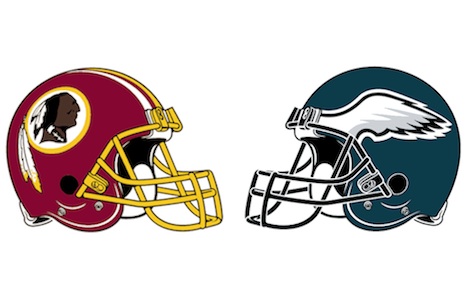 Photo Courtesy: warroomsports.com
ANNOUNCERS:
Kevin Burkhardt,
John Lynch
The Eagles blew out (well, at least they should have had it not been for that second half) the Redskins in their first meeting this season. The offense seemingly could do nothing wrong, and the defense looked strong, at least for the first half of the game. Since that game, the Eagles have gone 4-5. The Redskins have gone 3-5. With a win today, the Eagles would be the leaders of the NFC East, if only for a week since Dallas is on their bye. With a loss, the Eagles would fall to second in the division, and allow Washington to get back in the race. Remember last year, when the Eagles traveled to Washington to face the Redskins? Both teams were 3-6, and were seemingly out of playoff contention. The Redskins won that game easily, and rattled off six straight wins after that, winning the division on the final week of the season. I'm not saying that will happen again, but if the Eagles lose at home for the 11th straight time, it could.
The Last Time They Met:
Eagles
33
, Redskins
27
McCoy had an excellent day/night back in September.
Photo Courtesy: atlantablackstar.com
Robert Griffin III
's return after tearing his ACL in a playoff game against the Seahawks was spoiled, as
Michael Vick
,
LeSean McCoy
and
DeSean Jackson
each had big games that led the Eagles to the win. Vick completed 15 of his 25 passes for 203 yards, two touchdowns and no interceptions. Jackson caught seven of those passes for 104 yards and a touchdown. McCoy was the star of the night though. He carried the ball 31 times for 184 yards and one touchdown. He was the NFL's rushing leader after the game, and hasn't looked back.
The Redskins comeback bid fell short, despite
RGIII
seemingly waking up in the second half. He completed 30 of his 49 passes for 329 yards, two touchdowns and two interceptions. The Eagles defense held
Alfred Morris
to just 45 yards and a touchdown on 12 carries.
Pierre Garcon
was their leading receiver, finishing with seven receptions for 64 yards.
Aside from the Dallas game, Foles has performed well.
Photo Courtesy: CBS Philly
Eagles Offense vs Redskins Defense:
Obviously, the first person you have to look at on the Eagles offense is
Nick Foles
. He's filled in quite nicely for Michael Vick, with the exception of that Dallas game. That Dallas game is important, though. It's the only game he's started at home this season, and he performed horrendously, completing 11 of 29 passes for just 80 yards. In fact, let's take a look at his splits. He's played six games at home in his career, and at this point he's 0-6. He's completed 97 of his 164 passes (59.15 percent) for 943 yards, three touchdowns and three interceptions. On the road, he's 5-3. He's completed 150 of his 237 passes (63.29 percent) for 2012 yards, 19 touchdowns and just two interceptions. If he really wants to prove that he can lead this team for years to come, he needs to learn how to perform well at home.
The Eagles leading rusher is, of course, LeSean McCoy. Through ten games, he has carried the ball 193 times for 932 yards and three touchdowns. He broke out of a "slump" if you'd call it that last week against the Packers, as he rushed 25 times for 155 yards. Their leading receiver is DeSean Jackson, who has 54 receptions for 903 yards and seven touchdowns.
The Redskins defense has been terrible this season. Their secondary is easily the worst area of the unit, as they've seemingly let opposing QB's complete passes at will.
DeAngelo Hall
is the best member of the secondary (he has three interceptions on the year), but even he's shown the he can be beat.
Ryan Kerrigan
and
Brian Orakpo
are the two players to watch on the 'Skins defense. They have six and a half and four sacks, respectively, and they've combined for 66 tackles. If the Eagles offensive line isn't ready for a challenge like that, Nick Foles won't have a good day.
Redskins Offense vs Eagles Defense
Griffin III had a nice game last week.
Photo Courtesy: Washington Post
After a low start to the season, Robert Griffin III is finally starting to pick up his level of play. That is purely a result of his ability to run. Early in the season, it was rare to see a designed run called for RGIII, and it was even more rare to see him take off on his own. Basically, he was hesitant to run. Coming off of an ACL injury, the last thing he wanted to do was injure it again. So, naturally, the team slowly allowed Griffin III to get his legs back. Now, we are seeing RGIII run more and more. Through ten games, he has 301 yards on 56 carries, and is starting to look like the RGIII of 2012 again. He's completed 205 of his 337 passing attempts for 2450 yards, 12 touchdowns and nine interceptions, so his passing game is picking up, too. The Redskins still believe they have a chance to win this division, but if RGIII can't keep up a high level of play, they won't be going anywhere.
The Redskins leading rusher is Alfred Morris, who has carried the ball 159 times for 825 yards and five touchdowns. Their leading receiver is Pierre Garcon, who has 61 receptions for 803 yards and three touchdowns. The Eagles defense shut both of them down in their last meeting, so it will be interesting to see if they can do it again.
Speaking of the Eagles defense, they have vastly improved. After that terrible game in Denver in which they allowed 52 points, the unit has really clamped down. Since that game, the unit has allowed 21, 20, 17, 15, 20 and 13 points in consecutive weeks. If you are keeping score at home, that's 106 points in six games. They allowed 36 points per game through their first four games. Over the past six weeks, they have allowed just over 17 a game.
Cary Williams
has started to become a leader of sorts.
DeMeco Ryans
has made the transition from a 4-3 defense to 3-4 smoothly, unlike in Houston. The defensive line is one of the youngest in the league, and each member of the d-line has improved each week. I'm not saying that this team suddenly has what it takes to be a Super Bowl contender. Still, looking back at the past six weeks, it is clear that a foundation is being built. Some of these players won't be here when the Eagles become a Super Bowl contender. A lot of them will, though.
Special Teams
Alex Henery
seemingly can't win over the fan base. Look at the following three tweets from last week.
I don't care about his stats, Alex Henery has never made a big kick. I don't trust his leg.
— Kevin Negandhi (@KNegandhiESPN) November 10, 2013
Only 6 kickers in NFL have a worse FG % than Alex Henery
— Jeff Skversky (@JeffSkversky) November 10, 2013
BREAKING NEWS: Alex Henery beats out the Jaguars and Rams as the biggest surprise of the day by making a 25 yard field goal.
— Eagles Fan Problems (@EagleFanProbs) November 10, 2013
He's made 16 of his 21 field goal attempts (76.2 percent) and has been inconsistent at times.
18 of
Donnie Jones
' 51 punts have landed inside the 20. He has a net average of 39.7 yards.
Kai Forbath
has made seven of his 11 field goal attempts (63.6 percent). 14 of Sav Rocca's 41 punts have landed inside the 20. He has a net average of 34.0 yards.
Prediction
Eagles
30
, Redskins
27
The game will be close, but only because the Eagles are at home. Nick Foles will finally perform well at home, LeSean McCoy will rush for at least 120 yards, and
Riley Cooper
will add another TD to his stats. Going into their bye week, the Eagles will be 6-5 and have sole possession of first place in the NFC East.