by: Ryan Waldis
Follow him on Twitter @WarRoomPHLRyan by clicking
here
Watch the latest episode of the War Room on UStream by clicking
here
Purchase some War Room apparel by clicking
here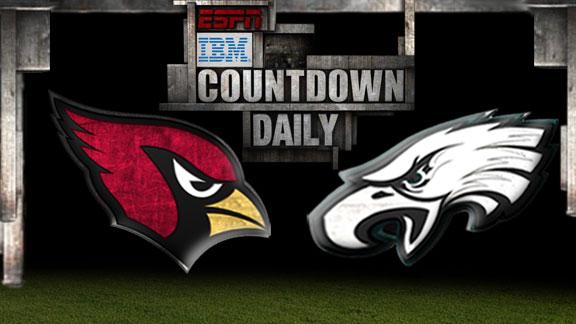 Photo Courtesy: ESPN
ANNOUNCERS:
Kenny Albert,
Daryl Johnston
,
Tony Siragusa
A meaningful Eagles game? In December? What is this, space? In all seriousness, it's nice to see the Eagles play a meaningful game in December for the first time since 2010. Can you believe it's been three years already? Okay, enough with the questions. When the schedules were released back in the spring, this was a game that many experts predicted the Eagles would win easily. It looked that way on paper at least, but in the NFL, paper doesn't get you far. The Cardinals have put themselves in a great position to make the playoffs as a Wild Card team after four consecutive wins. Granted, the wins have come against the likes of the Falcons, Texans, Jaguars and Colts, but regardless a win is a win. The Eagles can't take this game lightly. If they underestimate the Cardinals, they'll lose, and they won't make the playoffs, no matter what. With the Cowboys winning on Thursday over the Raiders, this is a game the Eagles need to win.
The Last Time They Met:
September 23, 2012-
Cardinals
27,
Eagles
6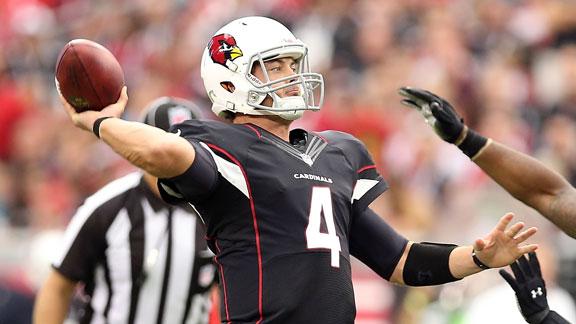 Kolb performed well against the Eagles. No, really.
Photo Courtesy: ESPN
The Eagles were off to a 2-0 start last season, and were facing off against another 2-0 team in the Cardinals. Unfortunately, the Eagles weren't able to get anything going and dropped a disappointing game in a season that would be filled with them.
Michael Vick
completed only 17 of his 37 passes for 217 yards, no touchdowns, no interceptions, and two fumbles.
LeSean McCoy
carried the ball only 13 times for 70 yards.
Damaris Johnson
was a bright spot, hauling in five passes for 84 yards.
The Cardinals improved to 3-0 for the first time in 38 years.
Kevin Kolb
(yeah, that Kevin Kolb) completed 17 of his 24 passes for 222 yards, two touchdowns and no interceptions.
Ryan Williams
carried the ball 13 times for 83 yards, and
Larry Fitzgerald
burned the Eagles once again, finishing with nine receptions for 114 yards and a touchdown.
Eagles Offense vs. Cardinals Defense
He's not fast, but he's athletic and crafty.
Photo Courtesy: dailyrecord.com
Nick Foles
was named the NFC's offensive player of the month. That's all well and good, but it's December now. That accolade won't mean anything if he can't continue his level of production for the next month (and hopefully longer). There really hasn't been any negatives in terms of Foles' performance. Aside from that awful Dallas game, Foles has been spot on. Check out his stats since that early October game against the Giants below (the Dallas game has been removed):
Passing
Rushing
Rk
G#
Tm
Opp
Result
Cmp
Att
Cmp%
Yds
TD
Int
Rate
Y/A
Att
Yds
Y/A
TD
3
5
PHI
@
NYG
W 36-21
16
25
64.00%
197
2
0
114.9
7.88
3
1
0.33
0
4
6
PHI
@
TAM
W 31-20
22
31
70.97%
296
3
0
133.3
9.55
3
2
0.67
1
6
9
PHI
@
OAK
W 49-20
22
28
78.57%
406
7
0
158.3
14.50
4
10
2.50
0
7
10
PHI
@
GNB
W 27-13
12
18
66.67%
228
3
0
149.3
12.67
8
38
4.75
0
8
11
PHI
WAS
W 24-16
17
26
65.38%
298
0
0
104.3
11.46
9
47
5.22
1
103
162
63.58%
1554
16
0
128.0
9.59
30
123
4.10
2
He's completed at least 64 percent of his passes in each game. He's had a passer rating of at least 104. He hasn't thrown an interception. His rushing yards per game have gone up each week. He has
two
rushing touchdowns. Even Michael Vick has deferred to him as the starter. If Foles continues to produce like this, the Eagles make the playoffs easily, and perhaps even make a run (I'm allowed to dream). If he doesn't, there will be another quarterback controversy this off-season.
The Eagles leading rusher is LeSean McCoy. He has 1,009 rushing yards on the season but only five touchdowns to show for it. The Eagles leading receiver is
DeSean Jackson
. After a couple of down years, Jackson has had a resurgence of sorts. Through 11 games, he has 985 receiving yards and seven touchdowns.
Peterson is already a captain of his team.
Photo Courtesy: USA Today
The Cardinals defense is one of the better units in the league. They're led by linebacker
Karlos Dansby
and
cornerback
Patrick Peterson
. Dansby has 88 total tackles on the year to go along with three sacks, two interceptions and a forced fumble, so it's clear he's a defensive force. Peterson has already established himself as one of the better CB's in the game as well as one of the best return men in the game. Peterson has 29 total tackles and three interceptions, but he's also very dangerous when it comes to returning punts.
The Cardinals defense also features rookie CB
Tyrann Mathieu
. Mathieu is quickly making a name for himself in this league; through 11 games he has 65 total tackles, one sack, two interceptions and a forced fumble. The Cardinals defense is arguably the best the Eagles will have played all season, so it will be interesting to see how the offense performs.
Cardinals Offense vs. Eagles Defense
Carson Palmer
is having one of the better years of his career in Arizona, and he's really started to pick it up lately after a slow start. Take a look at his stats over the past four games which, coincidentally, have all been Cardinals wins:
Passing
Rk
G#
Date
Tm
Opp
Result
Cmp
Att
Cmp%
Yds
TD
Int
Rate
Y/A
8
8
2013-10-27
ARI
ATL
W 27-13
13
18
72.22%
172
2
1
116.0
9.56
9
9
2013-11-10
ARI
HOU
W 27-24
20
32
62.50%
241
2
1
93.4
7.53
10
10
2013-11-17
ARI
@
JAX
W 27-14
30
42
71.43%
419
2
0
119.0
9.98
11
11
2013-11-24
ARI
IND
W 40-11
26
37
70.27%
314
2
0
114.0
8.49
11 Games
250
395
63.29%
2887
16
15
83.0
7.31
On the year, he's completed 250 of his 395 passes for 2,887 yards, 16 touchdowns and 15 interceptions. He hasn't looked this good since his Cincinnati days.
With a good QB, Fitzgerald's stats have improved.
Photo Courtesy: Sports Illustrated
Of course, having a good quarterback is paying major dividends for WR Larry Fitzgerald. Over his career he's been unfortunate enough to not have many good quarterbacks at his disposal, and his stats have suffered because of it. This year, however, he's starting to perform like many of us are accustomed to seeing. He's hauled in 50 passes for 606 yards and eight touchdowns. Fitzgerald seemingly burns the Eagles each time he faces off against them, so it will be interesting to see if that trend continues.
The Cardinals leading rusher is
Andre Ellington
, who has 73 carries for 441 yards and two touchdowns. They also tend to use
Rashard Mendenhall
, who has 130 carries for 391 yards and five touchdowns.
The Eagles defense, meanwhile, is in the midst of a monster turnaround. Deemed by many experts to be one of the worst when the season began, the Eagles D finally has an identity. Since that awful Denver game, the unit has allowed just 17.4 points per game. The defensive line (
Vinny Curry
,
Bennie Logan
, and
Fletcher Cox
) is young but feisty and competitive, and each member has a lot of potential to become one of the better players in the league.
The Eagles D has been strong against the run.
Photo Courtesy: argusleader.com
This linebacking corps may be the best we've seen in a while, as
Connor Barwin
,
DeMeco Ryans
, Mychal
Kendricks and
Trent Cole
have seemingly formed one of the better groups in the entire league. It will definitely be fun to watch this group of linebackers grow into this defense over the next couple of years.
Even the secondary, which was the worst area of the defense many weeks ago, has improved immensely.
Nate Allen
is starting to play like he was in the early part of 2010.
Cary Williams
and
Bradley Fletcher
(along with
Brandon Boykin
) have become formidable cornerbacks, and
Earl Wolff
has improved each week. If the Eagles defense can keep up this level of play, maybe something special happens as the calendar winds down and January approaches.
Special Teams Battle
Alex Henery
is having an off year, converting on only 17 of his 22 field goal attempts, with a long of 48.
Donnie Jones
has punted the ball away 57 times and has a net average of 40.8 yards with a long of 70; 22 of his punts have landed inside the 20. The kickoff and punt return groups, led by Damaris Johnson, DeSean Jackson and now
Brad Smith
have improved somewhat, but still have yet to really break a long return.
Jay Feely
, on the other hand, is about as consistent as you can get, converting on 22 of his 24 field goal attempts with a long of 52.
Dave Zastudil
has punted the ball away 57 times as well and has a net average of 39.7 with a long of 60. The main kick returner is
Javier Arenas
, who has a 46 yard return on the year, and the main punt returner is Patrick Peterson.
Prediction
: Eagles
27
, Cardinals
23
The Eagles will get their second straight win at home, and the Eagles will move into a tie for first with the Cowboys (technically the Cowboys would still be ahead of them, but that's a different story). If the Eagles can win, they'd also improve their chances at a wild card, as they would hold the tiebreaker over Arizona if it came down to that. Look for Nick Foles to have another good game, LeSean McCoy to rush for at least 90 yards and a touchdown, and
Riley Cooper
to add another touchdown to his stats.