by: Ryan Waldis
Follow him on Twitter @WarRoomPHLRyan by clicking
here
Watch the latest episode of the War Room on UStream by clicking
here
Purchase your War Room apparel and accessories by clicking
here
Photo Courtesy: Philadelphia Eagles
The way things are shaping up, many believe that if the Dallas Cowboys defeat the Washington Redskins in Landover, the Sunday Night match-up between the Bears and Eagles won't matter. Essentially, these people are right; the Eagles wouldn't be able to clinch the NFC East, and the only things they'd have to gain are a leg up on the NFC North division winner for the third seed and some momentum heading into Week 17's game against the Cowboys in Dallas. Still, even if the Cowboys take care of business against the Redskins, the Eagles match-up with the Bears matters a lot more than one might think. The team is coming off of a terrible loss to a lowly Minnesota Vikings team. They simply can't afford to have another off week, especially not in front of a national audience. Sure, a win might not do much, but it would at least let the country know that this team is for real. In this day and age, that counts for a lot more than you might think.
The Last Time They Met:
November 7, 2011- Bears
30
, Eagles
24
Forte torched the Eagles defense in 2011.
Photo Courtesy: bloguin.com
Apparently, seeing a team for five straight years doesn't help when determining what their strengths and weaknesses are, at least not when that team is the Bears. The Eagles saw the Bears for the fifth consecutive year in 2011, but the result was the same: another loss. In fact, the Eagles managed to lose to the Bears in four of the five years they played each other, but that's a different story. Regardless, the Eagles blew a fourth quarter lead (doesn't that sound all too familiar?) and fell to 3-5 in the process, trailing the first place Giants by three games.
The offense wasn't as consistent as it could have been, but it wasn't necessarily the problem either.
Michael Vick
finished with 21 completions on 38 attempts for 213 yards, no touchdowns and one interception. He gained 34 yards on the ground as well.
LeSean McCoy
rushed for 71 yards and a TD, and even
Ronnie Brown
found the endzone. The offense converted on eight of 14 third downs, and were one of three on fourth downs, but it wasn't enough.
The defense let
Matt Forte
rush for 133 yards on 24 carries, and while he didn't get a TD, former Cowboy
Marion Barber
did. They also let
Jay Cutler
complete 18 of his 32 passes for 208 yards, two touchdowns, and no interceptions. It's clear that the Bears wanted the win much more than the "Dream Team," and when all was said and done, the Bears improved to 5-3.
Eagles Offense vs. Bears Defense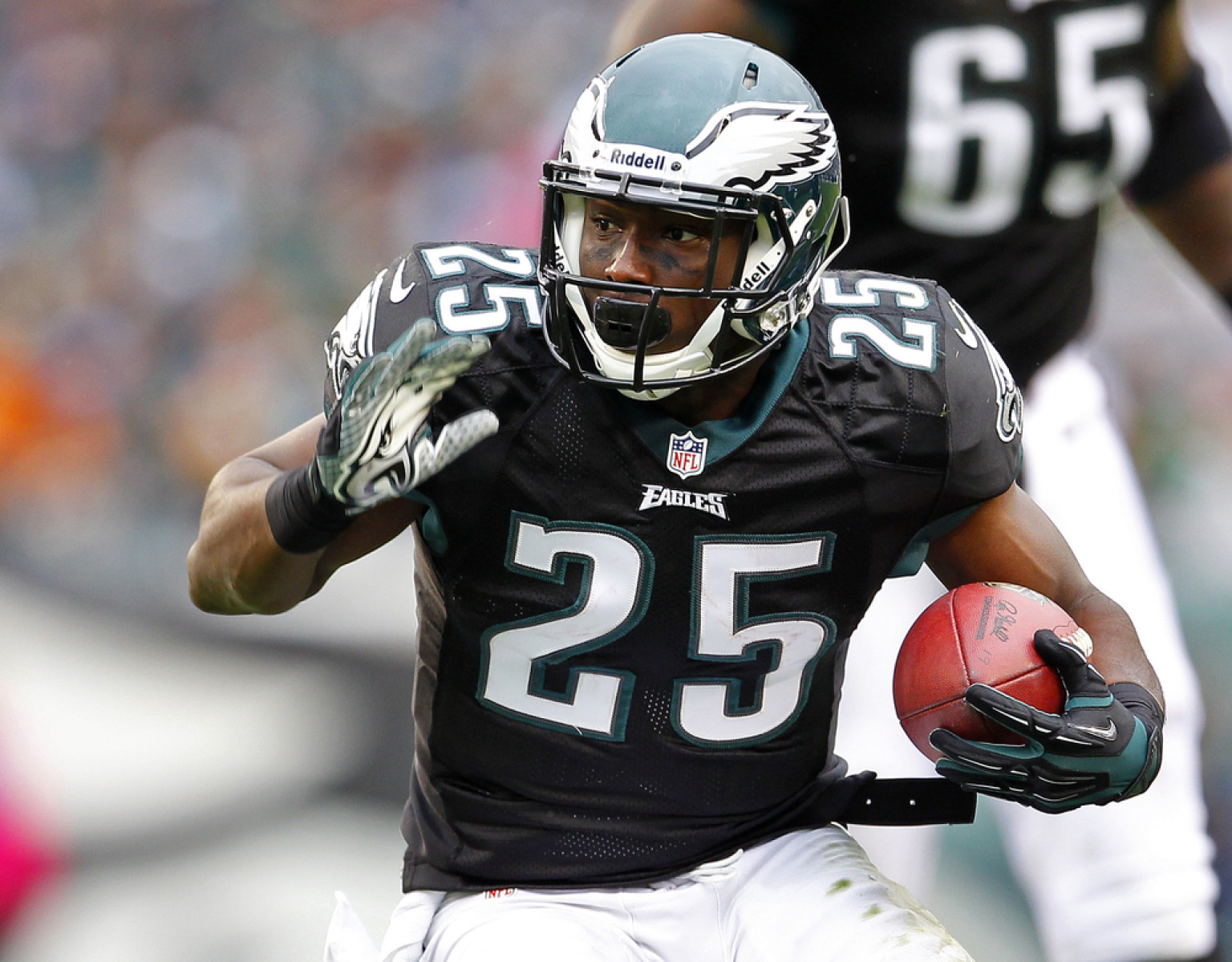 If this man doesn't get the ball, the Eagles won't win.
Photo Courtesy: Huffington Post
If LeSean McCoy doesn't get the ball and carry the team, something is seriously wrong. The Bears come into the game with one of the worst run defenses in the league. To put it simply, their run defense is awful. They allow an average of 152.4 rush yards per game, roughly 20 more yards than the next team on the list.
Lance Briggs
may return from injury this week, which would help the Bears run defense slightly as it would take rookie
Khaseem Greene
off of the field. However, Briggs is getting up there in age, so he wouldn't be on the field for a decent amount of snaps. Jeremiah Ratliff and
Julius Peppers
are decent run-stoppers, but they can't stop
McCoy
(or, at least, he shouldn't be able too) without a lot of help. Regardless, if Chip Kelly and the Eagles fail to utilize a guy who is 171 yards away from breaking the franchise record for rushing yards in a season, they don't deserve to win.
Aside from the horrendous run defense, the Bears secondary isn't that good either. Let's face it:
Tim Jennings
,
Major Wright
,
Chris Conte
, and
Isaiah Frey
don't exactly intimidate opposing offenses. Sure, the Eagles can't take them lightly, but they should be able to at least exploit them a lot throughout the game. Zack Bowman has been playing like the team's best CB over the past several weeks, and seems to be making a case to become a starter. He intercepted a
Jason Campbell
pass and brought it back for a TD, so at least he's making a good impression in
just
his sixth year in the league.
DeSean Jackson
should be able to torch Bowman or Jennings or anyone really; he's simply much better than the entire Bears secondary. I can also see
Riley Cooper
performing well, especially if
Nick Foles
is on his A-Game. He's no stranger to prime time games in the NFL (this will be his fourth, as he started a Sunday, Monday, and Thursday Night game last year), so the bright lights shouldn't be a problem.
Bears Offense vs. Eagles Defense
Two very dangerous tasks for the Eagles.
Photo Courtesy: CSN Philly
We'll get to Matt Forte in a bit, but first it's necessary to address just how dangerous this Bears offense is in terms of WR's and TE's. Going up against an Eagles secondary that has improved but is vulnerable to letting up big plays at times (just ask
Greg Jennings
), the Bears have an opportunity to complete pass after pass to any of their targets.
Earl Wolff
and
Brandon Boykin
will be back in action, which helps. Still, it's not easy to feel confident about
Cary Williams
and
Bradley Fletcher
lining up across from
Brandon Marshall
and
Alshon Jeffery
. Marshall on the year has 90 receptions for 1,185 yards and 10 TD's, while Jeffery has 80 receptions for 1,265 yards and seven TD's. Aside from the Broncos, this group of receivers is easily the toughest the Eagles have had to deal with. TE
Martellus Bennett
is also having a decent season, with 659 yards and five TD's on 59 receptions. As bad as the Bears run defense will be against McCoy, the Eagles pass defense may look worse against Marshall, Jeffery, and Bennett.
Now, let's get to perhaps one of the more underrated RB's in the league, Matt Forte. On the year, Forte has carried the ball 258 times for an even 1,200 yards and seven TD's, but he's also a threat in the passing game (go figure!) He's hauled in 66 passes for 522 yards and two TD's. The Eagles run defense is good, but Forte is easily their toughest test in a while. It well help to have
Mychal Kendricks
out there, but he can't do everything himself. If
Cedric Thornton
,
Fletcher Cox
, and
Bennie Logan
are able to able to plug the holes to keep Forte in the backfield just a second longer, that would be a tremendous help to Kendricks,
Trent Cole
,
DeMeco Ryans
, and
Connor Barwin
. Maybe going up against an offensive line that has four new members (including two rookies) from last season could help.
Special Teams Battle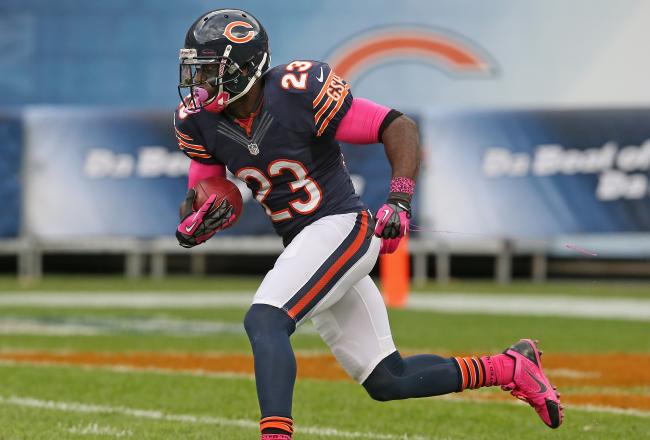 Devin Hester is a dangerous returner.
Photo Courtesy: Bleacher Report
Robbie Gould
is about as accurate as you can get. So far, he's converted on 25 of his 28 field goal attempts (89.3 percent), with a long of 58. Punter
Adam Podlesh
has placed 24 of his 58 punts inside the 20. On the season, he has a net average of 38.5, with a long of 65. For the second straight week, the Eagles have to go up against a dangerous returner. This week, it's Devin Hester. He hasn't returned any kickoffs for TD's yet (although he does have an 80 yard return), but he has returned one punt for a TD. Chip Kelly had
Alex Henery
perform "mortar kicks" to keep the ball away from
Patterson
, so you may end up getting frustrated at that again.
Henery has converted on 21 of his 26 field goal attempts this season (80.8 percent), with a long of 51.
Donnie Jones
has placed 30 of his 75 punts inside the 20, and has been one of the punters in the league this season. He has a net average of 40.1, with a long of 70.
Damaris Johnson
and Brandon Boykin have been the main kick return guys this season, but
Brad Smith
may start seeing more time back there. Johnson and DeSean Jackson have been the main punt return guys.
Prediction
: Eagles
31
, Bears
27
This game may end up not meaning a lot, but whether or not the Cowboys win doesn't matter. The Eagles have to show up this week, especially after fizzling out in Minnesota last Sunday. A win against a tough Bears team in front of a national audience would help a lot more than you might think.
Nick Foles will throw for about 270 yards and two touchdowns, while LeSean McCoy torches the the Bears defense, running for around 130 yards and two more touchdowns. Brandon Marshall and Alshon Jeffery will both put up some decent numbers, but in the end it just won't be enough. The Eagles will improve to 9-6, with a potential winner-take-all game against Dallas on the slate for next week.