by: Ryan Waldis
Follow him on Twitter @WarRoomPHLRyan by clicking
here
Watch the latest episode of the War Room on UStream by clicking
here
Purchase your War Room apparel and accessories by clicking
here
Photo Courtesy: Philadelphia Eagles
Back when the schedules for each NFL team were released, most people thought that the Week 17 Eagles-Cowboys game wouldn't mean anything (at least not for the Eagles).
Tony Romo
was supposed to be leading the Cowboys to a winning record and a playoff berth, while
Michael Vick
was supposed to be proving that he can still be a starter in this league (well, maybe not). Regardless, it doesn't matter what this game was supposed to be. All that matters is what this game currently means for both teams. If you win, your in. If you don't, you can book some early reservations at the local country club. Still,
Nick Foles
going up against
Kyle Orton
for a division title? You never thought you'd hear that, did you?
The Last Time They Met:
October 20, 2013- Cowboys
17
, Eagles
3
The first meeting featured the debut of Barkley.
Photo Courtesy: nj.com
You probably remember this as the game where Foles played like
JaMarcus Russell
or
Blaine Gabbert
. That's okay, because that's a fact. Coming off of an impressive performance against Tampa Bay (again) in which he threw for 296 yards, three touchdowns, and zero interceptions, Foles looked off against the Cowboys. Some attribute his performance (11 of 29 for just 80 yards and no touchdowns or interceptions) to injury; some attribute it to nervousness. Regardless, Foles didn't show up and eventually had to leave the game in the third quarter due to a concussion. Eagles fans were then treated to rookie
Matt Barkley
, who completed 11 of his 20 passes, but threw three interceptions in the process. The Eagles defense played well, but they were the only bright spot.
Tony Romo wasn't his usual self in the game either. He completed 28 of 47 passes for 317 yards, one touchdown, and two interceptions. His favorite target was
Dez Bryant
(who else?); Bryant hauled in eight passes for 110 yards.
The running games for both teams were almost non-existent;
Joseph Randle
carried the ball 19 times for 65 yards, while
LeSean McCoy
carried the ball 18 times for 55 yards.
Eagles Offense vs. Cowboys Defense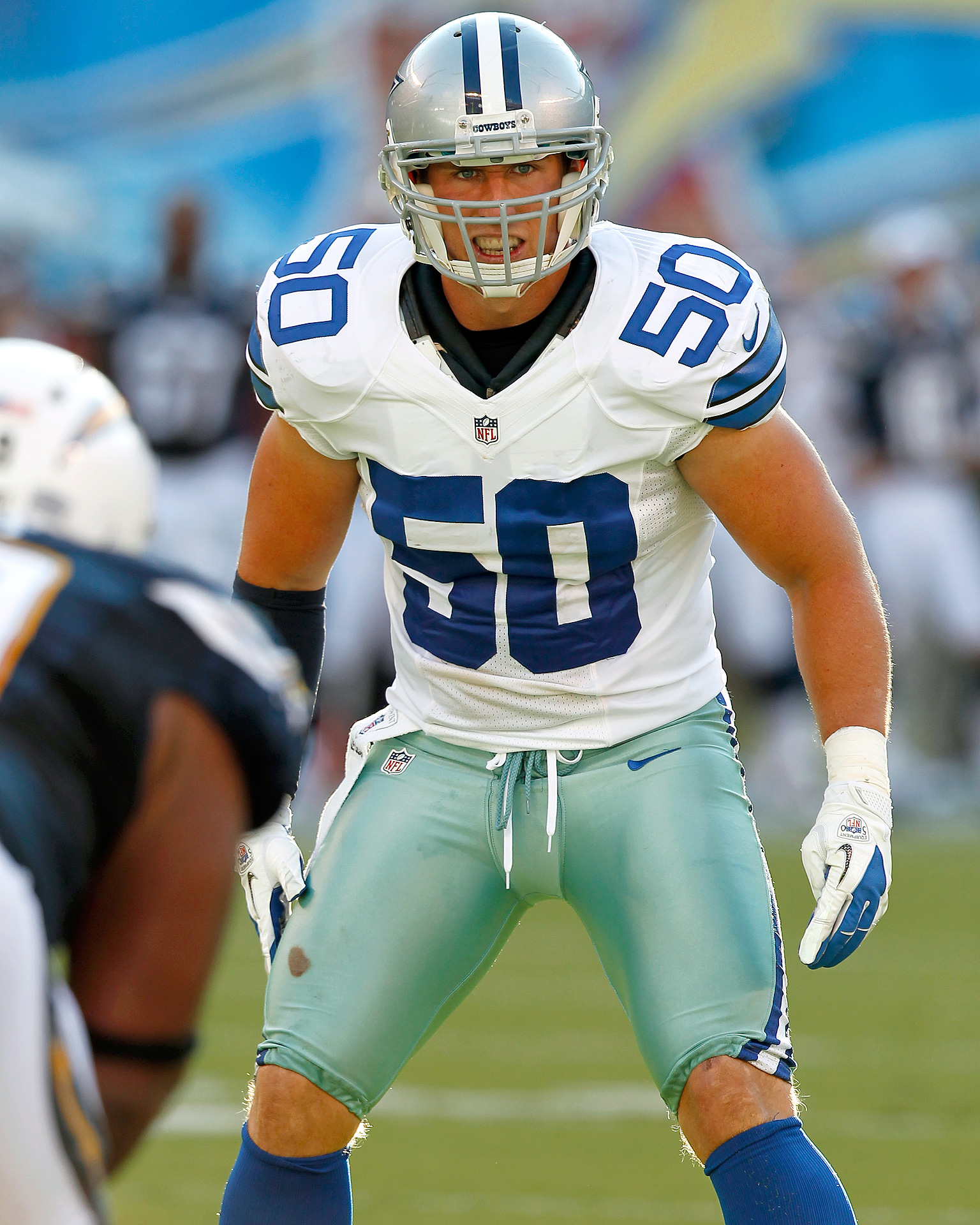 The loss of Sean Lee doesn't bode well
for the Cowboys.
Photo Courtesy: ESPN
The Eagles have the league's number one rushing offense, averaging 161.9 yards per game. That's already a large advantage, but it helps that the Eagles are going up against one of the worst run defenses in the league. It also helps that Sean Lee, the Cowboys stud LB from Penn State, will be out.
DeMarcus Ware
is also questionable due to a back injury. It's not a good time to be a Cowboy defender, as they'll have to deal with arguably the best running back in the league this season in
McCoy
. On the year, McCoy has carried the ball 287 times for 1,476 yards (just over five yards per attempt) to go along with nine touchdowns. Even Foles has gotten in on the fun, with 226 yards and two touchdowns coming off of 52 attempts. Of course, the running game wouldn't be as good as it is if it wasn't for the offensive line. With three members coming off of an injury (
Jason Peters
,
Jason Kelce
, and
Todd Herremans
) and one rookie (
Lane Johnson
), many questioned whether or not the Eagles o-line would hold up. It's safe to say that it did, as the Eagles are only one of three teams to send out the same o-line for all 16 games this season.
Let's go back to Foles. He's getting a late Christmas gift, as he'll be going up against the 31st ranked passing defense in the league (the Cowboys allow an average of 290.7 passing yards per game). Foles has been nothing short of spectacular this season, and although he hasn't started all 16 games, you can't take away from his season stats: 186 completions on 291 attempts for 2,628 yards, 25 touchdowns, and just two interceptions. He was named a first alternate to the Pro Bowl, but many believe he was snubbed (myself included). Regardless, Foles has had an excellent year, which means the Eagles no longer have to worry about taking a quarterback in the 2014 draft.
DeSean Jackson
and
Riley Cooper
have had career years, Jackson has 79 receptions for 1,304 yards and nine touchdowns while Cooper has 44 for 796 and eight touchdowns. The tight end combination of
Brent Celek
and
Zach Ertz
has also contributed, combining for 857 yards and nine touchdowns.
Brandon Carr
and
Morris Claiborne
are both decent CB's, but they've been inconsistent this season. The Eagles secondary was supposed to be one of the worst in the league, but the Cowboys secondary might have topped them.
Cowboys Offense vs. Eagles Defense
The man who was benched in favor of Tim Tebow
will be starting in a winner-take-all game.
Photo Courtesy: Bleacher Report
The main cog that keeps the Cowboys offense chugging along won't be playing due to a back injury that he suffered during the Redskins game last Sunday. I'm talking, of course, about Tony Romo, otherwise known as the guy who everyone loves to hate. Romo was actually having one of the best seasons of his career before his injury, passing for 3,828 yards, 31 touchdowns, and 10 interceptions. That doesn't matter now, though. Kyle Orton will be filling in for Romo, which can be both good and bad, depending on how you look at it. A lot of fans were quick to point out that the last time the Eagles played a backup quarterback, they allowed him to pass for 382 yards and two touchdowns. A lot of fans were also quick to point out that, if the Cowboys lose, they won't acknowledge the Eagles win, they'll just blame the loss on Romo's injury. Regardless, Orton is a veteran quarterback. He's been around for a while, and knows what is on the line tonight. Is he better than Romo? Heck no. However, he is a decent QB, and that's really all the Cowboys can ask for. Look for the Cowboys offensive game-plan to revolve around short passes early in order for Orton to gain some momentum.
The Cowboys also have a decent running back in
DeMarco Murray
; it's just a question of whether or not they'll actually use him. On the year, Murray has 1,073 yards and nine touchdowns on an even 200 attempts. The Cowboys average 94.5 rushing yards per game, and going up against the 12th ranked rushing defense in the league (the Eagles let up 107.5 yards per game) doesn't bode well.
Special Teams Battle
Alex Henery
has converted on 22 of his 27 field goal attempts this year, with a long of 51.
Donnie Jones
, one of the best punters in the league all season long, has had 32 of his 77 punts downed inside the 20 (an Eagles record) with a long of 70. The main returners are
Damaris Johnson
and
Brandon Boykin
on kickoffs (although
Brad Smith
has started to earn some attempts) and DeSean Jackson on punts.
Dan Bailey
has converted on 25 of his 27 field goal attempts this year, with a long of 53. 28 of
Chris Jones
' 74 punts have been downed inside the 20, with a long of 62. The main returner is
Dwayne Harris
(on both kickoffs and punts); Harris is very dangerous and is always capable of taking one back.
Prediction
: Eagles
41
, Cowboys
24
The Eagles will come out focused and determined, and although the Cowboys will keep it close for a while, they won't have what it takes to win. Nick Foles will throw for around 300 yards and three touchdowns, while LeSean McCoy will end the regular season on a high note, rushing for around 120 yards and two touchdowns.
The Eagles will win the NFC East for the first time since 2010, treating fans to at least one home playoff game. It will depend on what happens in the earlier games, but the Eagles will play one of four teams next Saturday or Sunday: the New Orleans Saints, Carolina Panthers, Arizona Cardinals, or San Francisco 49ers. According to most experts, the most likely opponent is the Saints.