by: Ryan Waldis
Follow him on Twitter @WarRoomPHLRyan by clicking
here
Watch the latest episode of the War Room on UStream by clicking
here
Purchase some War Room apparel and accessories
here
Photo Courtesy: Philadelphia Eagles
ANNOUNCERS:
Kenny Albert,
Daryl Johnston
,
Tony Siragusa
UPDATE:
Per Sean Jensen (a Vikings analyst) both Adrian Peterson and Toby Gerhart are not expected to play. Matt Asiata, Joe Banyard, and Jerome Felton will share carries.
Starting this article with a certain game that occurred three years ago to set the scene would be nice, but that has to be saved for a separate section. Regardless, this game has to be a trap. Honestly, what else could this match-up be? The Eagles are on a five game winning streak. They're playing a game against a 3-9-1 team. Their game against the Chicago Bears next Sunday was flexed to Sunday Night, their first prime-time game since the third week of September. The last game they played away from Lincoln Financial Field was over a month ago, on November 10th. Basically, this game has the word "let-down" written all over it.
It's easy to look past games like these. The Eagles can't afford to do that. They did that in 2010 (against this same Vikings team mind you, give or take a few players) and were humiliated in front of a national audience. You'd figure that, if the Eagles were able to beat a tough Detroit Lions team in terrible conditions, this game against the Vikings should be extremely easy. That's not exactly the case.
The Last Time They Met:
December 28, 2010: Vikings
24
, Eagles
14
This unheralded rookie defeated the Eagles. He isn't
even a QB anymore.
Photo Courtesy: newsday.com
Don't act like you don't remember that date. The Sunday Night Football game that was postponed to Tuesday Night? The game where some unheralded rookie QB from some unknown school beat a team that was favored by double digits heading into the game? The "Wussy Bowl" as the Philadelphia Daily News referred to it as? Regardless, every Eagles fan remembers that date. The Eagles were flying high, and while they had already clinched the NFC East by the time the game began, they still had a shot at a first round bye. Apparently, the Eagles didn't want a bye. In what was ultimately one of the worst games of the
Andy Reid
era, the Eagles came out flat and unmotivated in front of a national audience, losing to a sub-par Vikings team by 10 points.
This was the game that many attribute to
Michael Vick
's decline. After being seemingly untouchable throughout much of the season, Vick was thrown to the grass time after time, clearly in some pain after each hit. It's believed that the Vikings showed the rest of the league how to defeat Vick. The rest of the league took notes, and while Vick finished second in MVP voting in 2010, he hasn't looked the same since. Against the Vikings, Vick completed 25 of his 43 passes for 263 yards, one touchdown, one interception, and two fumbles.
Joe Webb
, the rookie from a college in Alabama (and no, it's not that one) who started for the Vikings, performed well. He completed 17 of his 26 passes for 195 yards while also rushing six times for 31 yards and a TD. His passing performance didn't blow people away, but it really didn't have to considering he had some guy named
Adrian Peterson
(who carried the ball 22 times for 118 yards and a TD) torching the Eagles defense.
The loss dropped the Eagles to 10-5, essentially guaranteeing them the third seed in the NFC.
Eagles Offense vs. Vikings Defense
Doing this on a normal day? Difficult. But in eight inches
of snow?
Photo Courtesy: Crossing Broad
The high-flying Eagles offense is going up against a sub-par Vikings defense. Now let's go into a little more detail.
LeSean McCoy
is coming off arguably the best game of his career. On a field covered in almost eight inches of snow, McCoy was able to maneuver around Lions defenders all day, finishing with an astounding 217 yards and two TD's on 29 carries. The performance vaulted
McCoy
atop the leader-board for rushing yards, and now he has 1,305 to go along with seven TD's. Sunday's performance was very impressive for McCoy, and he's primed for another big game against a team that plays in a dome.
Of course, you also have to look at second year man
Nick Foles
. Foles completed one pass past the line of scrimmage before halftime last Sunday. He also threw his first interception. Foles didn't let it affect him. He came out in the second half and performed admirably, finishing with 179 yards and a TD (as well as a rushing TD). He's thrown for 1,970 yards, 20 touchdowns and just one pick on the season. He's also rushed for 168 yards and three touchdowns. Being in a dome will help immensely (at least compared to last Sunday), but that's not the reason he, or McCoy, or
DeSean Jackson
or
Riley Cooper
could have big games.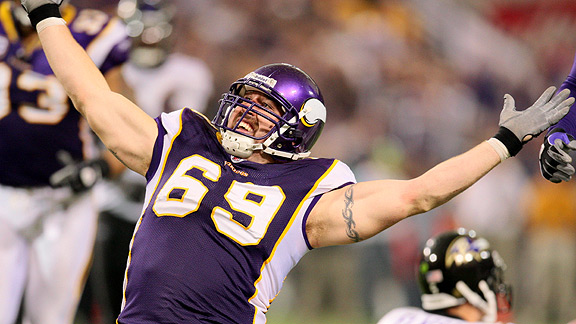 Allen's easily the best player on the Vikings defense
right now.
Photo Courtesy: ESPN
The Vikings defense (and particularly their secondary) has been hit hard by the injury bug this season. Their starting CB
Josh Robinson
is out. Their other starting CB
Chris Cook
is questionable. Their third CB,
Xavier Rhodes
, is doubtful. If that's not enough, LB's
Larry Dean
and
Chad Greenway
were also listed on the final injury report, although they're listed as probable with knee and wrist injuries, respectively. With the defense as banged up as it is, the match-up (at least on the defensive side of the ball) doesn't seem to be favoring the Vikings. They have a strong d-line in Brian Robinson,
Kevin Williams
,
Letroy Guion
, and
Jared Allen
, but those four can't play the other seven positions.
Vikings Offense vs. Eagles Defense
Peterson has been the Vikings lone bright spot on offense.
Photo Courtesy: sportingnews.com
Alright, a below-average offense is facing a hot defense that hasn't allowed more than 21 points in nine straight games, the longest since streak since 2001. Let's look into this a little more.
Remember when I mentioned the injury bug causing havoc on the defensive side of the ball? It hasn't done any favors on the offensive side of the ball. Starting TE
Kyle Rudolph
was placed on injured reserve a week or so ago. Backup TE
John Carlson
is out with a concussion. Starting G
Brandon Fusco
is doubtful. Starting RB Adrian Peterson and backup RB
Toby Gerhart
are both questionable. If Peterson and Gerhart are destined to sit on the bench, third string RB
Matt Asiata
and FB Jerome Fulton would share the carries. The Vikings would also be sending out third string TE
Rhett Ellison
, who has nine receptions over the two years he's been in the league.
The only thing the offense seems to have going for them is the pass game, and even that aspect is terribly inconsistent.
Matt Cassel
will be starting in place of
Christian Ponder
, and actually has some weapons at his disposal.
Jerome Simpson
and
Greg Jennings
are by no means stud WR's, but they can usually get the job done week in and week out. Cassel also has a dangerous option in rookie
Cordarrelle Patterson
, who, if nothing else, has shown many glimpses of his potential.
This group (plus Cary Williams) has kept the Eagles
youngsters focused all season long.
Photo Courtesy: CSN Philly
Still, the Eagles defense should be able to handle the Vikings offense. If you actually believed that the inexperienced Eagles defense (which had a ton of new faces, mind you) would go nine straight games allowing 21 points or less (the longest such streak since 2001, when
Jim Johnson
was the DC), you're lying, but you should also go play the lottery. Many people have been waiting for the collapse; that is, the day when the defense makes several mistakes and lets up a decent amount of points. It's been nine (10 if you count the bye) weeks. This defense finally has an identity. They're still inexperienced, sure, but through the leadership of
Trent Cole
,
Connor Barwin
,
DeMeco Ryans
, and even Cary Williams at times, the younger guys haven't lost their focus.
Cedric Thornton
,
Bennie Logan
and
Fletcher Cox
form one of the youngest d-lines in the game, but that entire unit is playing like each member is a 10-year veteran. They're finally creating consistent pressure, and against an offensive line that isn't exactly the best in the league, that pressure should continue.
Barwin, Cole, Ryans, and
Mychal Kendricks
form one of the better LB units in the league. They make the plays they're supposed to (and then some), and have performed the best out of any unit on defense throughout the entire season. Kendricks has really evolved into an excellent linebacker. In only his second year, Kendricks has shown week in and week out that he has what it takes to succeed in this league.
The secondary has been the most surprising group of all, however. Williams,
Bradley Fletcher
,
Brandon Boykin
,
Nate Allen
, and
Earl Wolff
were supposed to be towards the bottom of the league this season. Instead, they've held their own against the toughest passing offenses, and have grown together as a group. Are Williams and Fletcher the answer. Not necessarily, but it's nice to see a change from the blown coverages we became accustomed to seeing during the
Nnamdi Asomugha
/Dominque Rodgers-Cromartie days.
Special Teams Battle
Alex Henery
has converted on 18 of his 23 field goal attempts this season, with a long of 48.
Donnie Jones
, easily one of the best punters in the league this season, has had 29 of his 71 punts land inside the 20 this season (two away from first in the league). He has a long of 70. The return game (led by
Damaris Johnson
, Brandon Boykin, and Jackson) has improved a little bit, but still isn't anything special.
Blair Walsh
is one of the best kickers in the game, and has converted on 24 of his 27 attempts this season. Only one of his three misses has been from less than 53 yards. He has a long of 54.
Jeff Locke
has also punted well this season, with 16 of his 62 punts landing inside the 20. He has a long of 65. The Vikings return game (led by
Patterson
and
Marcus Sherels
) is among the most dangerous in the league. Patterson has already returned two kicks for TD's (including a 109 yard return), while Sherels has one punt return TD (including an 86 yard return).
Prediction
: Eagles
38
, Vikings
20
This game is a trap game, plain and simple. Regardless, it doesn't seem like the Eagles are treating it any different than a regular game. Basically, they're not looking past it. That's a good thing: this team isn't good enough yet to look past games like these.
The offense will explode for a lot of yards and a lot of points. Nick Foles will throw for at least 300 yards and three TD's, Jackson and Cooper will each have at least 100 yards and a TD, and McCoy will have at least 100 yards and a TD. Heading into a Sunday Night game against a tough Bears team, the Eagles will need some momentum. They'll get it from this game.