by: Ryan Waldis
Follow him on Twitter @WarRoomPHLRyan by clicking
here
Watch the latest episode of the War Room on UStream by clicking
here
Purchase your War Room apparel and accessories by clicking
here
To the Philadelphia Eagles Organization,
I've tried writing this letter four different times already. I don't really know how to express what I want to say. I guess I'll start off by saying thank you. In fact, let me thank your organization for everything you've done over the past year. So, Jeffery Lurie, Don Smolenski, Howie Roseman, and the rest of the Philadelphia Eagles organization, thank you...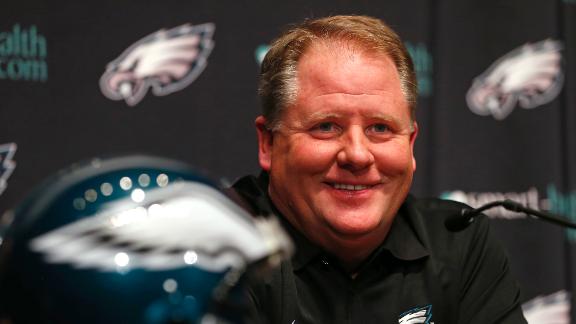 Photo Courtesy: ESPN
For signing a coach that many thought would never succeed at the NFL level. You took a chance on a guy that went 46-7 with the Oregon Ducks but did not get any respect. His football IQ is supposedly sky-high. Although he hit a rough patch during the middle of the season, he made the necessary adjustments and led his team to seven wins in eight games. He led a team that finished 4-12 last season to a division title this season. He's a Coach of the Year candidate. That's a great year for any coach. For a rookie head coach, that's incredible. You for let Chip Kelly prove everyone wrong. It's safe to say your decision worked out.
For having your second consecutive successful draft. You had a solid 2012 draft class that featured Fletcher Cox, Mychal Kendricks, Vinny Curry, Nick Foles, Brandon Boykin, and Bryce Brown, but you didn't stop there. The 2013 draft class featured Lane Johnson, Zach Ertz, Bennie Logan, and Earl Wolff. All four of those players made impacts early, something that needs to happen if a team wants to be successful. You are becoming one of the better drafting teams in the league. That's a necessity to do good in this league.
Photo Courtesy: The 700 Level
For handling the Riley Cooper situation so well. It would have been easy to cut him and let another team deal with him. It would have been easy to bench him and teach him a lesson. Instead, you fined him and sent him to mandatory counseling. If you cut Cooper, your organization would not have gotten as far as it did this season. Riley just had the best season of his career, and has said that he wants to return to Philadelphia. He was a key contributor to the team this season, and will be for years to come. You gave Riley Cooper the chance that he deserved, and now he can be your number two WR for years to come.
For holding five open practices at Lincoln Financial Field during the summer, as well as holding every training camp session at the NovaCare Complex. It's always tough to end a tradition, and some fans were upset that they could no longer make the pilgrimage up to Lehigh during the summer. Still, the open practice sessions at the Linc were a big success, and drew a lot of fans. Even holding the training camp sessions at the NovaCare Complex was a smart idea. As Chip Kelly said, would you get more sleep while sleeping in your own bed or sleeping next to a 300-pound, snoring lineman? I'm sure it was a tough decision, but thank you for changing the location of Training Camp, which was ultimately for the better.
For giving us hope that this season might be special when you defeated the 2012 NFC East champion

Photo Courtesy: CBS

Redskins 33-27 in front of a national audience in week one. You took a 26-7 lead into halftime, and although the second half was a little dicey, you didn't look back. Michael Vick looked like a man on a mission, LeSean McCoy was making his case for the best running back in the league, and DeSean Jackson started off the season on the right foot. Many were fans were uncertain on what this season would bring, so starting off the season with one of the seven to eight wins you were supposed to get was awesome.
For staying strong through the tough times. That stretch from September 15th to October 27th was a major disappointment, especially after that impressive win in Washington. A three point loss to the Chargers due to a late field goal. A 10 point loss to Andy Reid's Chiefs. A 32 point loss to the Broncos, which was one of the worst losses some fans have ever seen. You followed those three losses with two wins, but immediately lost two more games to the Cowboys and Giants. It would've been easy to fold and call it a season since you were sitting at 3-5, but it's clear that you had other things in mind.
For rattling off seven wins in eight games after that loss to the Giants. Winning streaks are hard to come by in the NFL, but you won five straight games before a loss in Minnesota, and jumped from an afterthought to a dark horse. That winning streak featured Nick Foles becoming one of the better QB's in the league, several outstanding performances from Cooper, and a vastly improved defense. That five game stretch catapulted your organization to 8-5, a record that no one envisioned back in July. The loss to Minnesota was a killer, but you rebounded by embarrassing the Bears to the tune of 54 points in front of a national audience, followed a week later by winning the NFC East in Dallas in front of (you guessed it) a national audience. This leads into my last bullet point.
For finishing 10-6 and winning the NFC East for the first time since 2010. You finished 4-12 in 2012

Photo Courtesy: Philadelphia Eagles

, good for last place in the NFC East. Now, there's always one or two teams each season that complete a major turnaround, going from worst to first in their division. No one thought it would be the Eagles. Thanks to your incredible turnaround, you were able to treat fans to a home playoff game for the first time since that magical 2010 season. Although you lost to a tough New Orleans Saints team on a dejecting last second field goal, the fact that you hosted a playoff game was nothing short of amazing.
Foles and McCoy- Two of the guys that will take the Eagles
back to the top.
Photo Courtesy: The 700 Level
I'm a junior in high school, so I was lucky enough to see the Eagles be successful year after year for the majority of my life, unlike some of the older Eagles fans. So, when you finished 8-8 in 2011 and 4-12 in 2012, I was a little confused and a little worried. It's safe to say that I'm not worried anymore. This season, you found your franchise QB in Nick Foles, who finished the regular season with a final stat-line of 203 completions on 317 attempts, 2,891 yards, 27 touchdowns, and just
two
interceptions. Here's the best part: he didn't even play a full season. You also learned that you have the best running back in the league in LeSean McCoy (who finished with 1,607 yards and nine touchdowns on 314 carries) as well as one of the most dangerous receiving duos in the league in DeSean Jackson (82 receptions, 1,332 yards, nine touchdowns) and Riley Cooper (47, 835, eight). If you decide to bring back both Cooper and
Jeremy Maclin
next season, you could have a group of receivers (and tight ends) that rivals only the Broncos. Your defense took a
big
step forward from last season and, with a couple good draft picks or free agent signings, could be in the top-15 by the end of next season.
This season was amazing. It was filled with highs and lows, yes, but what season isn't? Your organization took me on an incredible ride that I won't soon forget, and I can't thank you enough. Good luck this offseason in making good decisions to help this team succeed even more, and here's to many more successful seasons in the future. #FlyEaglesFly
~ Ryan Waldis