by: Ryan Waldis
Follow him on Twitter @WarRoomPHLRyan by clicking
here
Watch the latest episode of the War Room on UStream by clicking
here
Purchase your War Room apparel and accessories by clicking
here
After a fun-filled day that consisted of watching the New England-Denver and San Francisco-Seattle games, I realized that the lack of Eagles football on the weekends was killing me. So, I had an idea: outline the Eagles offseason. Over the next few months, I'll be releasing free agent possibilities, mock drafts, and much more. In this article, I will be looking at the Eagles roster and determining who gets to stay and who gets to go. So, without further ado, let's get started.
Note: Due to the large amount of players I'll be going over (67 to be exact), "Who Stays and Goes" will end up being the first three parts of An Eagles Forecast.
It'll be a while until we see this again.
Photo Courtesy: Philadelphia Eagles
Emmanuel Acho, LB:
Acho played well when given the chance, and although he won't be starting next season (unless there's an injury), he's a nice guy to keep around. He seems to know the system, and after just one year, it's clear that he's better than
Casey Matthews
ever was.
STAYS
Photo Courtesy: CBS Philly
Nate Allen, S:
This is a tough one, especially for me. Ever since he was drafted, I've wanted to see Allen
succeed. When he was getting hounded on over the past two seasons, it made me a bit upset, as I knew the potential that Allen had. However, his performance this past season has to say something about the type of safety Allen could be. Even if he doesn't start next season, he'd be a solid backup.
STAYS
Colt Anderson, S:
This is a no-brainer. The guy is an ace on special teams (one of the best ST'ers in the league), and typically plays well at safety, given the circumstances that have to occur for him to even play a defensive snap.
STAYS
Jason Avant, WR:
With the amount of talent the Eagles have (or, at this point in time, had) at WR, it's clear that Avant isn't going to get a lot of opportunities to make a reception going forward. Still, he has decent hands, and it wouldn't surprise me if
Nick Foles
looked his way next season if he's in need of a big play. Better yet, he's an outstanding run blocker and he'd provide a veteran presence, something the Eagles locker room could definitely use. With the possibility of
Riley Cooper
and
Jeremy Maclin
leaving via free agency, Avant gets to don the midnight green for another season.
STAYS
Brandon Bair, DE:
I don't recall hearing his name much. He's 29 with two years of NFL experience. Normally, he'd be an easy cut. However, Chip Kelly values size, and Bair is intriguing in that aspect, measuring in at 6'6, 285. He'll be staying.
STAYS
Michael Bamiro, OT:
Bamiro was signed as an un-drafted free agent. He actually was projected to go around the fourth or fifth round, but a misunderstanding caused him to be available after the draft. He's a little rough, but he may end up replacing
Jason Peters
someday due to his sky-high potential and his incredible size (6-8, 340).
STAYS
Allen Barbre, OG:
When he had to step in (mainly when Jason Peters was off of the field with an injury), Barbre performed admirably. He can play any position on the offensive line (perhaps with the exception of center), which bodes well for him under coach Chip Kelly.
STAYS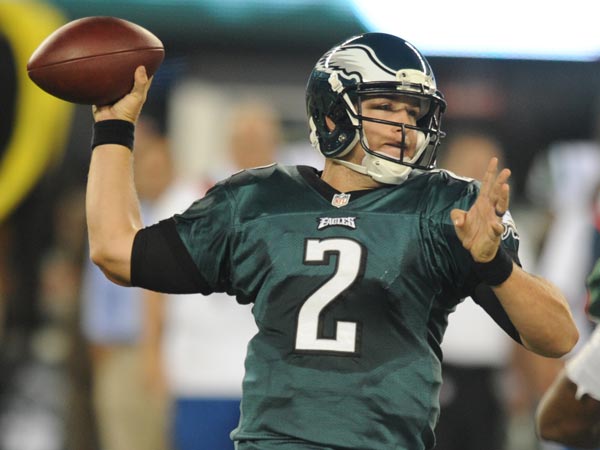 Photo Courtesy: philly.com
Matt Barkley, QB:
Due to his performance in two games that he wasn't prepared to be in, Barkley isn't high on a lot of people's radars heading into the 2014 season. With
Michael Vick
likely on his way out, Barkley appears to have the inside track on the backup QB spot, and should Foles find himself on the bench due to an injury, Barkley could surprise you. He has more talent than he showed this season.
STAYS
Connor Barwin, LB:
A 27 year old outside linebacker in the prime of his career who knows the 3-4 defensive system better than anyone. Barwin is also one of the best free agent signings the Eagles have made over the past several seasons. This decision is easy.
STAYS
Arrelious Benn, WR:
He got injured in training camp and never got to make the impact both the front office and the coaches envisioned. Maybe they let him compete for a spot in training camp, but I'd rather see a rookie compete for time than Benn.
GOES
Brandon Boykin, CB:
Boykin blossomed into a star in his second year, and while the coaches are hesitant to move him from the nickel position (mainly due to size concerns), don't be surprised if Boykin gets a shot on the outside next season. Boykin is set to be a cornerstone on the Eagles defense for years to come.
STAYS
Bryce Brown, RB:
Brown's value took a bit of a dip due to the lack of carries he received this season, which was partially due to
McCoy
's emergence as perhaps the best RB in the league. The Eagles seem to like
Chris Polk
, and with
Matthew Tucker
waiting in the wings, I'd try to acquire a draft pick for Brown. Give the guy a chance to do something he won't do here: start.
GOES
Roc Carmichael, CB:
He played fairly well when called upon, but the Eagles need better options at CB than him. It wouldn't surprise me if he competes for a spot in training camp. At this point tough, it's tough to keep him, especially after what happened in that Saints game.
GOES
Photo Courtesy: eagledelphia.com
James Casey, TE/FB:
Seeing as the Eagles don't utilize a fullback, Casey's only value is at TE. With a whopping three catches for 31 yards this past season, many don't see a reason for him to be here. However, cutting him would cost two million dollars, and he'd easily get picked up by another team. I expect the Eagles to run more three TE sets this upcoming season, giving Casey some more opportunities.
STAYS
Brent Celek, TE:
His production diminished due to the emergence of rookie
Zach Ertz
during the second half of the season. Still, he's a veteran, and it wouldn't hurt to keep him around. Contrary to popular belief, Celek can still play. He might lose some snaps to Ertz, but that shouldn't diminish his value. Don't be surprised to see Celek take a pay-cut sometime in the near future to cement his spot on the team for the next couple of years, though..
STAYS
Photo Courtesy: gazettenet.com
Patrick Chung, S:
No no no no no no no no.
GOES
Kurt Coleman, S:
Saw his playing time diminish due to the love-affair with Chung as well as the performances of Allen and
Earl Wolff
. He can play on special teams, but his play at safety leaves a lot to be desired. He plays with a lot of heart and always hustles, but that's not going to get him a starting job on the Eagles.
GOES
Trent Cole, LB:
Cole's getting older but his performance this season showed that he still has something left in the tank. Still, drafting an OLB to take his spot in a couple of years, as well as to take some of the heat off of him this upcoming season, is a necessity.
STAYS
Riley Cooper, WR:
He broke out and had the best season of his career due to Maclin's ACL injury. It appears that the Eagles will only sign one of the two back, so it really comes down to preference. I'd like to see Cooper back, especially with a full season of Foles on the horizon. Then again, I'd like to see what Maclin can do in Kelly's offense. Screw it, both of them are coming back.
STAYS
Fletcher Cox, DE:
Some people have described Cox as a budding superstar. I'd have to agree with those people. He's not going anywhere.
STAYS
Photo Courtesy: Associated Press
B.J. Cunningham, WR:
I'd enjoy seeing Cunningham get a shot to contribute next year. An analyst said that Cunningham, "is an underrated pass catcher with skills. He is a good route runner with savvy and quickness and could make immediate contributions as a third or fourth WR" after he was drafted in the sixth round. Why not give him a chance?
STAYS
Vinny Curry, DE:
He seems to be stuck behind Cox and
Cedric Thornton
on the depth chart, but his skill set makes him hard to just let go. With more playing time, he may end up making a solid impact next season.
STAYS
If you've been keeping score at home, I've let go
five
out of a possible
22
players. Be sure to check back soon for part two, where I make decisions on the next group of 22 players. Thanks for reading!