by: Ryan Waldis
Follow him on Twitter @WarRoomPHLRyan by clicking
here
Watch the latest episode of the War Room on UStream by clicking
here
Purchase some War Room apparel and accessories by clicking
here
After a long wait, here is part two of An Eagles Forecast. In this part, I will be looking at the next group of 22 players on the Eagles roster, deciding whether they get to stay with the Eagles or find work with another team. Enjoy! (If you missed part one, click
here
).
He could very well become the greatest TE of all time,
only time will tell.
Photo Courtesy: philly.com
Jon Dorenbos, LS:
Without looking it up, when was the last time Dorenbos screwed up a snap? Exactly.
STAYS
Zach Ertz, TE:
He had a slow start to the season and was forced to split time with veteran
Brent Celek
, but Ertz managed to finish the season with 469 yards and four TD's. He has said that he wants to be the greatest tight end of all time. Philadelphia would be a great place to do just that.
STAYS
Bradley Fletcher, CB:
He had a slow start, but he actually rebounded quite nicely. He's not
Richard Sherman
or
Darrelle Revis
, but he's a decent CB to keep on the team, especially with his low salary (he's due to make three million dollars this upcoming season). Will he be a starter again? Probably, depending on what the Eagles do in the draft. I'm completely fine with that. Think about this: Fletcher performed better in one season than everyone's favorite CB
Nnamdi Asomugha
performed in two. How crazy is that?
STAYS
Nick Foles, QB:
I shouldn't even have to include his name in this article.
STAYS
Clifton Geathers, DE:
With the size he has (6'8, 340 pounds), it wouldn't surprise me to see Geathers back with the Eagles for another season. He won't be a starter (at least not without an injury to someone in front of him on the depth chart), but Chip Kelly values size. At the very least, he'll be with the team throughout much of July and August.
STAYS
He'll contribute somewhere, just not here.
Photo Courtesy: nj.com
Najee Goode, LB:
As Reuben Frank of CSN Philly pointed out, Najee is the first player in Eagles history whose father played for the Eagles. He also played very well when
Mychal Kendricks
went down with an injury midway through the season. He's young, athletic, and is one of the Eagles best special teams guys. Who knows, maybe he'll contribute even more next season.
STAYS
Brandon Graham, LB:
Ah, the young man who is better known for being picked ahead of
Earl Thomas
instead of his performance on the field. Graham played fairly well in a do-or-die year considering that he was a natural 4-3 LB who had to adjust to a new system. He only played in 27 percent of the team's snaps, accumulating three sacks and a fourth in the playoff loss against the Saints. The Eagles will almost certainly add more depth at the LB position this off-season, leaving Graham on the outside looking in. He'll find a starting job somewhere. It just won't be here.
GOES
My reaction when Henery missed a field goal or
failed to kick the ball out of the endzone.
Photo Courtesy: phillyburbs.com
Alex Henery, K:
Henery had a very rough season. He converted on only 82 percent of his field goal attempts. He went seven-for-10 on field goal attempts between 40 and 49 yards, and one-for-two on attempts 50 or more yards (the one 50-yarder he made came in a dome, by the way). It's sooo easy to say, "Cut him, they'll easily find someone better." It's not that easy to accomplish. If they draft or sign another kicker who turns out to be terribly inconsistent, then the team is back to square one. He'll come back, albeit with some competition for the first time in his career.
STAYS
Todd Herremans, OG:
He's getting up there in age (he'll be 32 and entering his 10th season), but Herremans can still play. His run-blocking abilities are still very good, and while his pass-blocking abilities seem to be declining (if only slightly), it's tough to find good offensive linemen these days. I wouldn't be surprised if the Eagles draft a guard in the mid-to-late rounds, but we'll cross that bridge when we get to it.
STAYS
Philip Hunt, LB:
The Eagles brought him back even after a season-ending injury back in training camp, so it's clear that they seem some potential in him. Still, as was the case with Graham, Hunt is a natural 4-3 LB. I have no problems with Hunt coming into camp to compete, but he'll be at a disadvantage compared to most of the other LB's. He'll get a chance to contribute somewhere, it just won't be in Philadelphia.
GOES
Emil Igwenagu, TE:
Unless either Brent Celek or
James Casey
gets cut, Igwenagu won't see much time, if any at all. He can contribute on special teams, but there's not really a need for a fourth TE on the roster, especially when the three guys ahead of Igwenagu are Celek, Ertz, and Casey.
GOES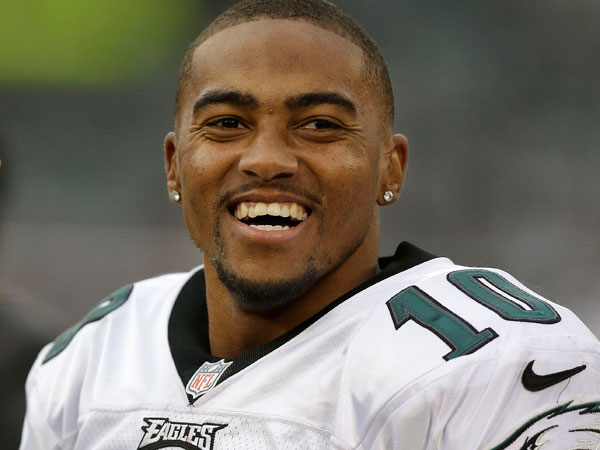 D-Jax isn't going anywhere.
Photo Courtesy: philly.com
DeSean Jackson, WR:
When asked if he wanted a raise, Jackson responded as almost anyone in his situation would: yes. Yet, people took his response the wrong way. Coming off of a season in which he hauled in 82 passes for 1,332 yards and nine touchdowns, was he supposed to say no? Maybe he'll get a raise, maybe he won't. It's clear that he meshes very well in Chip Kelly's offense, and he'll be excellent weapon for Nick Foles next season.
STAYS
Damaris Johnson, WR:
Johnson was supposed to solve the Eagles problems in the return game. Two years later, he's lost his return job to
Brad Smith
(presumably). He hasn't contributed much on offense, so there's really no reason for him to be an Eagle anymore.
GOES
Keelan Johnson, S:
He was called up from the practice squad late in the season, but didn't really get a chance to show if he can compete in the NFL. He has decent size for a safety (5'11, 212) and plays well enough on special teams to keep him on the roster anyway.
STAYS
Lane Johnson, OT:
The third Johnson on the Eagles made some rookie mistakes during the 2013 season, but most rookies do. He showed that he can be a quality tackle in the NFL, and won't be going anywhere anytime soon.
STAYS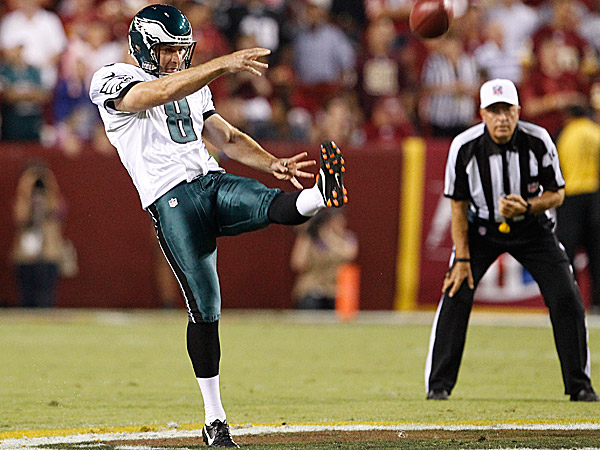 Bring this man back.
Photo Courtesy: philly.com
Donnie Jones, P:
The days of Sav Rocca and
Chas Henry
are long gone. Jones one of the best players on the Eagles last season, landing 33 of his 82 punts inside the 20 and finishing the season with a net average of 40.5 yards. He should be one of the Eagles top priorities in regards to their unrestricted free agents.
STAYS
Jason Kelce, C:
He'll probably get a contract extension pretty soon, and he definitely deserves it. He performed very well in his rookie season, and coming off of an ACL tear, Kelce performed even better this season. Remember when the Eagles had problems on the offensive line? It seems like those problems are a thing of the past.
STAYS
Dennis Kelly, OT:
I like what Reuben Frank said about Kelly: "The last man standing from the legendary 2012 offensive line backup crew that also included Demetress Bell,
King Dunlap
,
Jake Scott
,
Dallas Reynolds
, and
Danny Watkins
." Who would have thought? There's no reason to think that he won't be back, especially with his size (6'8, 321).
STAYS One of the best draft picks the Eagles have made
in recent years.
Photo Courtesy: fansided.com
Mychal Kendricks, LB:
Kendricks had an great rookie season and followed that up with an even better sophomore season. He's easily one of the better up-and-coming linebackers in the league, and is in position for an excellent third season, assuming he stays healthy. He'll be one of the defensive centerpieces for years to come.
STAYS
G.J. Kinne, QB:
He won't start here unless both Foles and Barkley sustain injuries, but he's still a nice guy to have on the team. As Geoff Mosher said, Kinne would be perfect for the scout team due to his athleticism, mobility, and accurate arm. Foles also brought Kinne with him to Hawaii, so it's clear the Foles knows eliteness (that's a word now) when he sees it.
STAYS
Jake Knott, LB:
Knott played well when he was healthy, but that was the problem. He spent much of the season on the bench due to injury, so he didn't get to showcase his talents as much as he could. Still, he's young and has the potential to be a decent LB in the NFL. All he needs to do is stay healthy. Remember when the Eagles had LB problems?
STAYS
Joe Kruger, DE:
I liked the Eagles selection of Kruger in the 2013 draft, but unfortunately he never got to see the field, injuring his shoulder before the season began. He could provide the pass-rush ability the Eagles are looking for, but he'll need to impress in training camp to earn that much needed playing time. If he's on the roster by the time Week One rolls around, he could be in for a good season.
STAYS
If you've been keeping score at home, I've let go
four
out of a possible
22
players, bringing the current total to
nine
out of a possible
44
players. Be sure to check back soon as I make decisions on the final 23 players. Thanks for reading!