by: Ryan Waldis
Follow him on Twitter @WarRoomPHLRyan by clicking
here
Watch the latest episode of the War Room on UStream by clicking
here
Purchase some War Room apparel and accessories by clicking
here
Barwin was among the positives of last year's FA class.
Photo Courtesy: philly.com
I have been writing for this website for just over one year, and for the past week or so I've been remembering one of the first articles I wrote. I went into detail on the five free agents the Eagles should have targeted entering the 2013 free agency period. Looking back on it, I was a solid one-for-five, getting my
James Casey
prediction correct, while
Brent Grimes
,
Eric Winston
,
Louis Delmas
, and
Nick Barnett
went on to greener pastures. Casey ended up being a dud, but that's a different story.
The Eagles 2013 free agent class, for the most part, was great. Depending on how you looked at it, the fact that they had such a good class was nothing short of a blessing considering the organization's terrible luck in FA during the previous several years.
Connor Barwin
,
Cary Williams
, and
Bradley Fletcher
were among the positives from the class.
Kenny Phillips
didn't work out, and
Patrick Chung
... well... you know. Anyway, the '13 class proved one thing: the Eagles don't need to pay large sums of money in order to be a contender. They signed mid-level FA's, and ended up finishing 10-6 with a division title to boot.
Bill Polian (the former Colts GM and current ESPN analyst) released his free agency do's and don'ts; check them out below.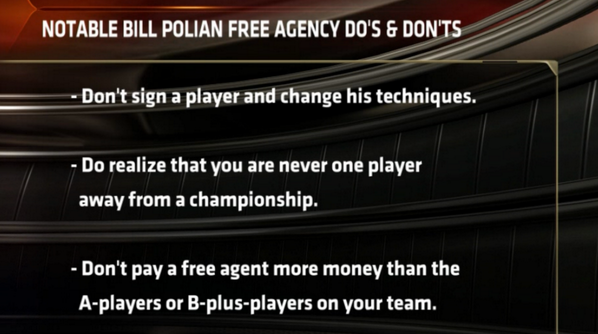 Sound familiar?
Photo Courtesy: ESPN
Those tips sound like something Howie Roseman would say, don't they? Roseman understands how to navigate free agency now, and with a better front office than he had in previous years, fans should be confident in any move that the Eagles make over the next couple of weeks. So, without further ado, here are the five free agents that the Eagles should target when free agency begins today.
Free Agent One: Steven Hauschka
, K, Seattle Seahawks, 28 years old
Career Statistics:
96 games played, 161-164 XP (98.2 percent), 98-114 FG (86 percent), 27-29 FG 0-29 yards, 36-39 FG 30-39 yards, 28-33 FG 40-49 yards, 7-15 FG 50-plus yards
Last Season:
16 games played, 44-44 XP (100 percent), 33-35 FG (94.3 percent), 10-11 FG 0-29 yards, 9-9 FG 30-39 yards, 11-12 FG 40-49 yards, 3-3 FG 50-plus yards
He could be the answer to the Eagles problems at K.
Photo Courtesy: seahawks.com
Alex Henery
simply isn't cutting it anymore. If he was a sixth or seventh round pick, I might give him another year to get things in order and try to improve. He was a fourth round pick, though, and his performance does not constitute that of a kicker selected in the fourth round. That is why I'm hoping the Eagles take a look at the former Seahawks kicker, Steven Hauschka. Hauschka has emerged as one of the most reliable kickers in the league over the past couple of years. He makes the kicks that he needs to (and then some), he has postseason experience, and he's a Super Bowl Champion. What else could you possibly want in a kicker? His career started off a little slow, but he's finally hit his potential. The Seahawks GM did not place the franchise tag on Hauschka, allowing him to test the market. A decent number of teams will be interested in him. The Eagles should be too.
Henery has shown that he is inconsistent no matter where he is, whether it be at the Linc or in New York or even in a dome. Hauschka has performed about as consistent as you can get
in Seattle.
Seattle.
If he can convert field goals at a 94 percent clip in Seattle, he would do just fine in Philadelphia. Besides, look at the other kickers available:
Phil Dawson
,
Adam Vinatieri
,
Josh Brown
, and
David Akers
just to name a few. I wouldn't feel comfortable with any of them as my kicker. Besides, all of those kickers are older than 34. Hauschka is only 28. He could be with the Eagles for a while if the Eagles sign him. He'd have to beat out Alex Henery but, as any Eagles fan can tell you, that wouldn't be very hard.
Free Agent Two:
Chris Clemons
, S, Miami Dolphins, 28 years old
Career Statistics:
72 games played, 277 total tackles, 1.5 sacks, four interceptions, two forced fumbles, 17 passes defended
Last Season:
16 games played, 92 total tackles, one interception, eight passes defended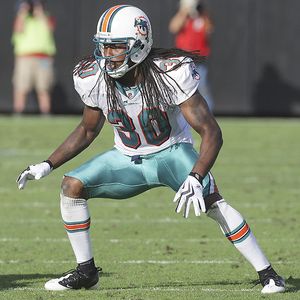 He's not Byrd or Ward, but he's a solid option.
Photo Courtesy: ESPN
The Eagles are not going to get Jarius Byrd or TJ Ward. It would have been nice, but it's not happening, and to be honest I'm glad they won't be wearing midnight green next season. Ever since the Nnamdi Asoumugha situation, I'm very skeptical about signing big name free agents. With that out of the way, let's talk about the player in question. Clemons is considered an excellent cover guy. He's already better than Patrick Chung! In all seriousness though, Clemons isn't great at defending the run, and he's not exactly a play-maker as evident by his four interceptions in five years. Still, he can tackle whoever has the ball (98 tackles two years ago, 92 last season), and has a decent build (6'1, 215 pounds) which Chip Kelly loves. He might not be a "perfect" fit, but then again, who is?
Clemons is thought to be limited to one-year deals this offseason. That's perfect for the Eagles: let him prove that he can play here, and then let him go at the end of next season and let one of your young guys (who had more time to develop) take over. It seemed to work last season, and if he ends up deserving a contract extension for a second year, so be it. Clemons would be very cost-effective and, if he shows up with a chip on his shoulder, could end up being a steal. Besides, would your rather have Clemons or Chung?
Free Agent Three:
Mike Mitchell, S, Carolina Panthers, 26 years old
Career Statistics:
76 games played, 207 total tackles, 7.5 sacks, six interceptions, three forced fumbles, 21 passes defended
Last Season:
15 games played, 67 total tackles, four sacks, four interceptions, two forced fumbles, nine passes defended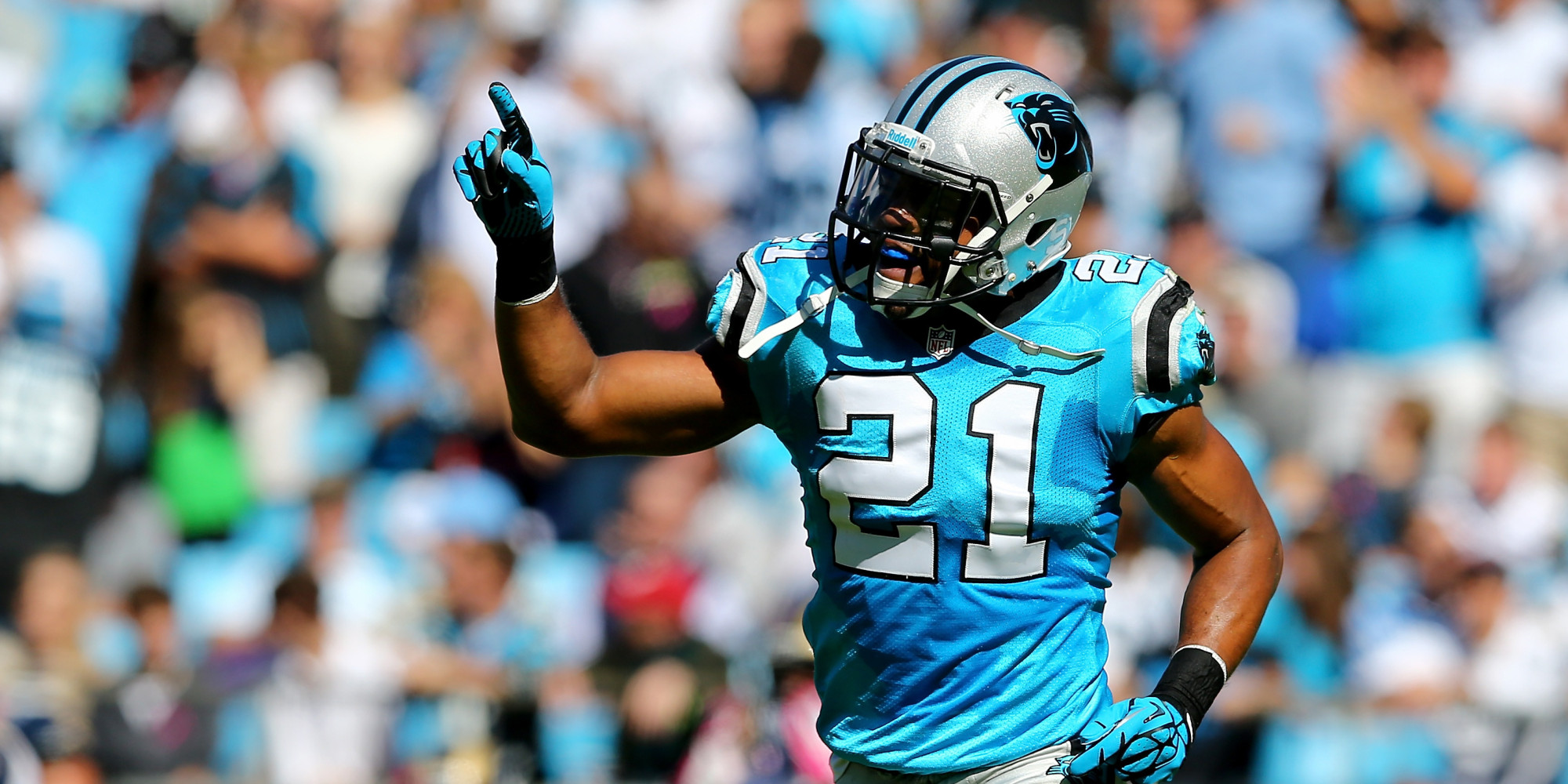 Another good option at safety.
Photo Courtesy: Huffington Post
The Eagles are said to be "showing the most interest" in Mitchell, and for good reason. He's coming off of a career year in a tenacious Carolina Panthers defense, and would come at a great price (roughly four to five million dollars per year). I'd rather see the Eagles get Clemons, but I wouldn't mind if they got Mitchell either. He doesn't get as much tackles as Clemons, but he is more of a play-maker as evident by his four interceptions last season. He can also play both safety positions, giving Kelly some versatility. He's just reaching the prime of his career as he is only 26 years old, which is yet another positive. There is a risk of course: can Mitchell repeat his performance from last season? Before last season, Mitchell hadn't really done anything of note. He didn't even play in the first game of the season. He recorded less than three tackles in three different games. He had three interceptions in the first four games, and recorded just one more over the final 12.
With the safeties I have mentioned, it's really a pick-your-poison situation. With Clemons, you get reliable tackling at the expense of a true play-maker. With Mitchell, you get a young, perhaps up-and-coming play-maker that doesn't record as much tackles as Clemons. You could also get Clemons on a one year deal, while Mitchell would likely require a multi-year deal. The Eagles will look over all the preceding pros and cons that I have mentioned. When it comes down to it, they'll make the right decision.
Free Agent Four: Mike Neal
, OLB/DL, Green Bay Packers, 26 years old
Career Statistics:
36 games played, 66 total tackles, 10.5 sacks, one interception, two forced fumbles
Last Season:
16 games played, 49 total tackles, five sacks, one interception, one forced fumble
Maybe Neal could be a steal too.
Photo Courtesy: packersnews.com
It's been suggested that Neal could be a fit in Philadelphia. It's easy to see why: he can play on the line or as a linebacker, exuding the versatility that Chip Kelly loves. He has a decent build at 6'3, 285 pounds, which would help the Eagles beat up on the little guys. The only problem with Neal is a big one: he's not exactly an explosive pass rusher, which is something the Eagles need. They could always address the problem in the draft, but it'd be best if the Eagles could fill all of their needs in free agency so they can take the best possible prospect (regardless of position) when it's their turn to pick, as they did last year.
Neal's only 26, which is a big positive, and the Eagles could get him fairly cheap. He still has time to improve, and with the coaching staff that the Eagles have in place, who's to say that he can't become an effective pass rusher with some work? As with Mitchell, Neal's performance seemingly came out of nowhere, so it's only right to think about whether or not he can repeat it. Still, he can play
anywhere
on the front seven (literally), which is why he's such a great fit for the Eagles. If nothing else, he'd provide much needed depth on the defensive side of the ball.
Free Agent Five: Alex Carrington
, DL, Buffalo Bills, 26 years old
Career Statistics:
41 games played, 52 total tackles, four sacks, one forced fumble
Last Season:
three games played, 10 total tackles
When healthy, Carrington can be a force on the line.
Photo Courtesy: buffalobillsdraft.com
Carrington only played in the first three games of the season before a torn quad ended his season. His injury caused him to hit the free agent market, where he'll probably get a one year deal for under five million dollars. Some believe that Mike Pettine (Cleveland Browns head coach, former Buffalo coordinator) will target Carrington and offer him a contract. The Eagles should make sure that doesn't happen. Carrington can play either end or tackle, and has a great build at 6'5, 301 pounds. He's a great interior pass rusher, so the Eagles sack totals would improve with Carrington on the roster. He played in 16 games in 2011 and 2012, so it's clear that Carrington can be relied on to stay healthy.
The Eagles are high on
Bennie Logan
to be the starter at the NT position, but Carrington could provide some much needed depth and perhaps even help Logan out, making the latter a better player. Carrington was the Bills starting LE when he went down, so the Eagles would be getting him for a bargain. Some other teams will be in on the Carrington sweepstakes as well, so it will be interesting to see how much a guy coming off of a quad injury can command. When healthy, he can be a key contributor and provide depth, two things the Eagles could definitely use.
As you can tell, I'm staying away from the best players that free agency has to offer. Instead, I'm looking to sign mid-level free agents to short deals, simply to fill the needs that this team has. Remember, the Eagles will have some important pieces (such as
Nick Foles
) to sign to extensions next offseason, so just because they have a lot of money to spend this offseason doesn't mean they have to use it all.
Thanks for reading; hope you all enjoyed. Be on the lookout for my first mock draft, which should be released at some point over the next two weeks.