by: Ryan Waldis
Follow him on Twitter @WarRoomPHLRyan by clicking
here
Watch the latest episode of the War Room on UStream by clicking
here
Purchase some War Room apparel and accessories by clicking
here
Here is the long-awaited part three of An Eagles Forecast, where I will make decisions on the final 23 players on the roster. If you missed part one,
click here
; part two,
click here
.
Bennie Logan, NT:
He was the proud recipient of some more playing time after the trade of Issac Sopoaga. He finished the season with 27 total tackles and two sacks, and with some experience under his belt, expect Logan to make more of an impact this upcoming season.
STAYS
Travis Long, LB:
As with
Joe Kruger
, the Eagles kept Long on the roster for the entire 2013 season. The organization obviously sees something in him, so expect to hear Long's name a lot during Training Camp and perhaps even the regular season.
STAYS
It's old news, but he's back!
Photo Courtesy: nj.com
Jeremy Maclin, WR:
Chalk this one up in the "I knew that the Eagles would sign both
Riley Cooper
and Jeremy Maclin back" column. Don't believe me? Check part one! In all seriousness though, I can't wait to see how Maclin performs in Chip Kelly's offense. Should be a fun season.
STAYS
Jeff Maehl, WR:
A former Oregon Duck, Maehl was brought in via a trade late in the preseason. He didn't really do much. This is an easy decision.
GOES
Curtis Marsh, CB:
An incumbent from that terrible 2011 draft, Marsh was brought on after the Bengals cut him, but he didn't do much. I'd rather see the organization draft a CB than see Marsh back. Nothing against him, but you only get so much chances.
GOES
Evan Mathis, OL:
Mathis is one of the best players on the Eagles, and is arguably the best LG in the entire league. He was selected to the Pro Bowl and was part of the all-pro team. Mathis was signed during that 2011 free agent spending spree. If you asked someone back then, "Who will last longer between
Nnamdi Asomugha
and Evan Mathis," I doubt you'd hear a lot of Mathis responses.
STAYS
Casey Matthews, LB:
He was drafted to be the starting MLB of the future several years ago. Safe to say that theory didn't work out as planned. Even being a former Oregon Duck can't save him. I guess I was stupid to think that he could be like his brother when they drafted him.
GOES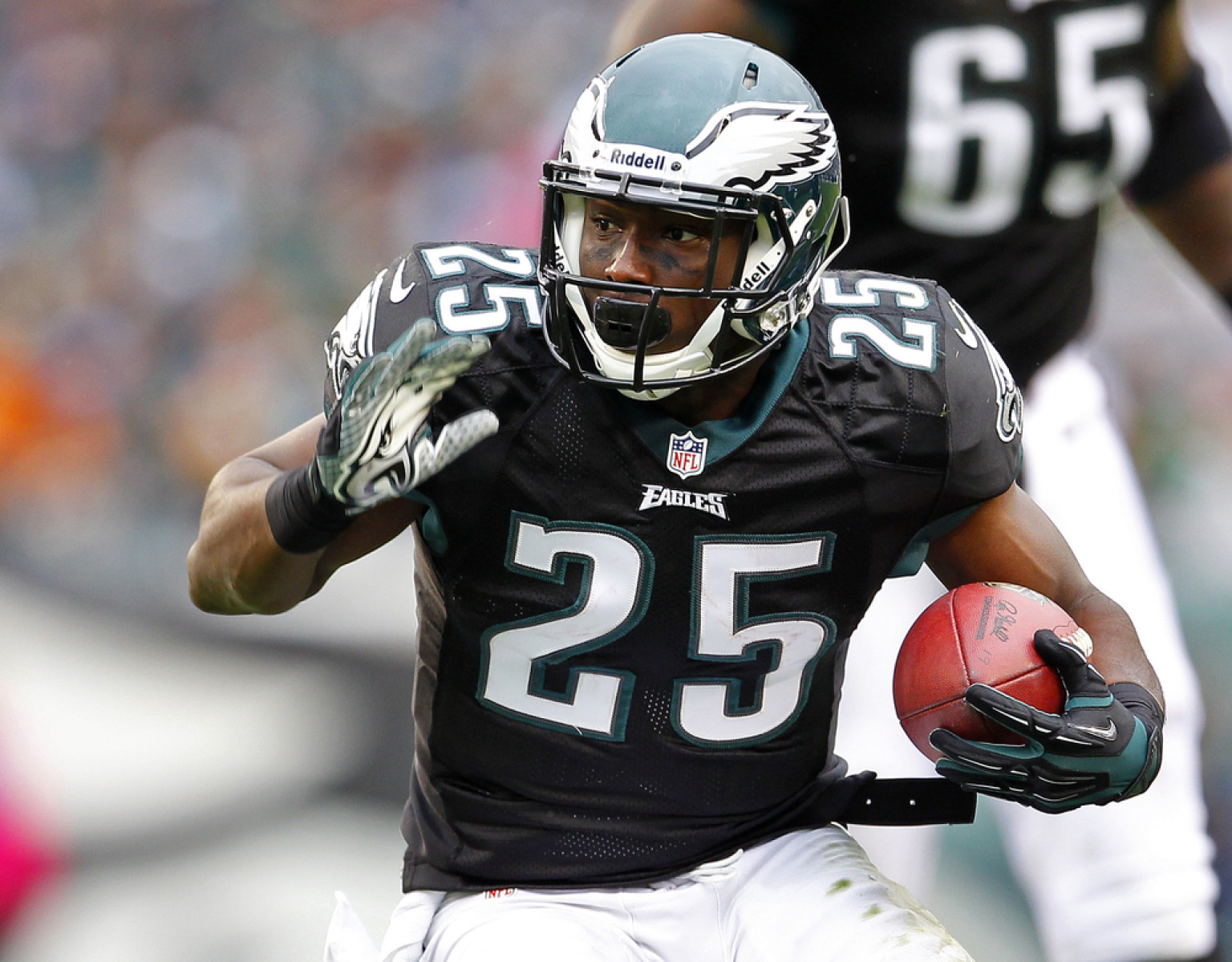 I shouldn't even have to put this guy in this article.
Photo Courtesy: Huffington Post
LeSean McCoy, RB:
I'm unsure as to why this guy is still on the roster. Trade him for a late round draft pick (if they can even get that).
STAYS
Ifeanyi Momah, WR:
With the signings of
Riley
Cooper and Maclin, plus the deep class of WR's in the draft this year, I don't see a way for Momah to contribute next season. With his size (6'7, 240), Momah was supposed to be a crucial redzone target. That didn't work out, but maybe he'll have a chance to latch on with another team.
GOES
Will Murphy, WR:
Yet another Oregon Duck who didn't contribute aside from being part of the scout team. Once again, with the draft as deep as it is, there's no room for Murphy.
GOES
Jason Peters, OL:
Peters is one of the best (if not the best) LT's in the league, and with his recent contract extension (along with that Pro Bowl selection), it's clear that the Eagles feel the same way. I'm sure
Nick Foles
can live comfortably knowing that he has both Peters and Mathis protecting his blindside for the next several years.
STAYS
Jason Phillips, LB:
He tore his ACL in training camp and was never able to make the impact the organization thought he could. He seems to have decent potential, but with some younger guys such as
Jake Knott
and
Najee Goode
already in front of Phillips on the depth chart, I don't see a spot for him. I'm sure another team will take a chance on him, though.
GOES
Chris Polk, RB:
Polk impressed in a very limited role, carrying the ball 15 times for 159 yards last season. He may have leaped over
Bryce Brown
on the depth chart with his performance, and it wouldn't surprise me to see Polk backing up
McCoy
next season instead of Brown. He doesn't have blow-it-by-you speed, but with his intangibles, that doesn't really matter.
STAYS
DeMeco Ryans, LB:
Some people believe that, due to his age (he'll be 30 when the 2014 season begins) and the amount of money ($6.8 million) he's supposed to make, the Eagles should cut him and draft or sign a younger LB. That makes some sense, but are you really going to cut a guy who's led your team in tackles the last two season
and
is in his prime over $6.8 million? That's crazy talk. Besides, you need a couple veteran leaders on a defense like the Eagles have. Ryans can fill that role perfectly. He's not going anywhere.
STAYS
This play was ugly, but Smith's potential in this
offense intrigues me.
Photo Courtesy: philly.com
Brad Smith, WR:
He's already the best returner the Eagles have had in the past few years, and he could be an interesting asset on offense. I know, I said that the WR class is deep this year. I'd like to see what Smith can do, though.
STAYS
Damion Square, DT:
His performance wasn't great, and he is a little undersized (293 pounds), but the Eagles seem to love his potential, so he'll be sticking around. To be honest, if Square improves during the offseason and comes back a little stronger, I like the idea of a Logan/Square combo at NT. The 2013 draft class keeps looking better and better.
STAYS
Cedric Thornton, DE:
Thornton wasn't mentioned a ton before the preseason began last season, but he actually turned out to be a great run-stopper in the Eagles 3-4 scheme. He ended up with 60 total tackles, including seven for a loss. At only 25, he'll be around for many years to come. Don't be surprised if Thornton receives a contract extension sometime in the near future.
STAYS
Matt Tobin, OL:
Tobin didn't do much in 2013 (four special teams snaps) but the Eagles seem to love his potential. At 6'6, 303 pounds, I do too. If he comes back a little stronger, he'll end up being a very serviceable backup with many great years ahead of him.
STAYS
Matthew Tucker, RB:
If Bryce Brown is indeed traded as I believe he will be, Tucker will most likely open up the 2014 season as the third-string RB. The Eagles obviously think very highly of him, as they kept him on the roster all of last season even with McCoy, Brown, and Polk on the team. He probably won't contribute as much as Polk will, but he has the skill-set to be a good RB in the NFL.
STAYS
Julian Vandervelde, OL:
The Eagles actually signed another center (
David Molk
) to compete with Vandervelde for the backup C spot. With Vandervelde coming off of an injury, I don't think Molk will have to compete for very long, if at all.
GOES
Michael Vick, QB:
The guy wants to go to a team where he can be a starter for the next few seasons. That's highly unlikely, but there are some teams out there that would definitely give him a shot. Even if he doesn't get the offer he's looking for, the Eagles appear set at backup with
Matt Barkley
, so it appears as though Vick's time in Philadelphia is over. It's been real, Mike; thanks for your time and good luck with your future endeavors. I'll always remember your magical 2010 season, even if it didn't end as I'd hoped.
GOES
Cary Williams, CB:
He wasn't the best cover-CB in the league, but he was definitely an upgrade over Nnamdi and DRC. He might not be part of the team's future plans, but he'll be back for at least one more season.
STAYS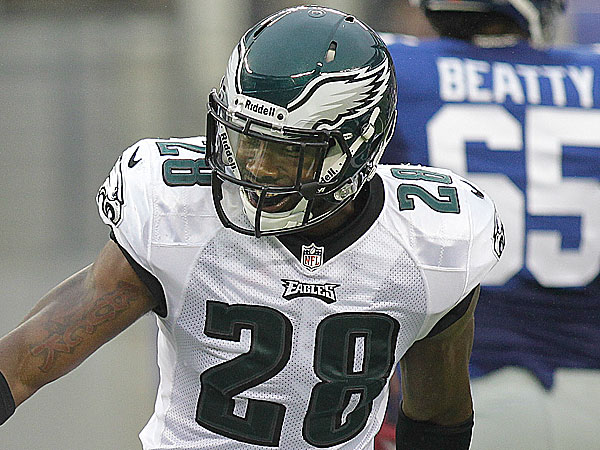 Wolff will impress next season. Yes, will.
Photo Courtesy: philly.com
Earl Wolff, S:
Last but not least, Mr. Wolff. He got injured at a bad time last season, as he was finally starting to play well. The Eagles fifth-round selection last year has a ton of potential, and should be a starter in 2014. I said it in my mock drafts last season and I'll say it again: Wolff has the chance to solve the Eagles problems at safety (well, at least 50 percent of them). Give the kid a year or two and you'll be very impressed.
STAYS
If you've been keeping score at home, I let go
five
players in part one,
four
in part two, and
eight
in this part, bringing the grand total to
17
players. These first three parts were fun, but it's only the beginning (literally). Be on the lookout out for an article where I see which FA's the Eagles should sign, followed by my first Mock Draft of the year. Hope you enjoyed, and thanks for reading!