by: Ryan Waldis
Follow him on Twitter @WarRoomPHLRyan by clicking
here
Watch the latest episode of the War Room on UStream by clicking
here
Purchase some War Room apparel and accessories by clicking
here
Opening Day is finally here, and both fans and analysts alike seem to agree on one thing: the Phillies aren't going to be very good. Between the inexperienced bullpen, the aging veterans that are in the (projected) starting lineup, or the seemingly weak pitching rotation, the entire team is a huge question mark. Take a look at some of the optimistic Phillies predictions below:
Phillies average placement in the division in preseason predictions has been 6th place.
— The Good Phight (@TheGoodPhight) March 27, 2014
Some 2014 Phillies predictions. Chance to make a 15-win jump, but it might not even matter: http://t.co/Mc7IisGHnz
— Corey Seidman (@CoreySeidman) February 15, 2014
Clearly, if you believe that the Phillies will do well this season, you should be placed in an insane asylum for the next six months. Of course, I'm one of those "hopeless optimists" who believe that the Phillies, what with their aging core and all, still have enough left in the tank to make one more run this season. I might be crazy, but I have
phaith
faith.
All of the aforementioned information ties in to what this article is truly about: several bold predictions. Now, to be clear, a bold prediction is not "
Cliff Lee
ends the season with double digit wins and 180-plus K's," but rather something like, "
Roberto Hernandez
finishes as the second best starting pitcher on the Phillies" (that's not one of my predictions, by the way). With that said, let's get started.
Bold Prediction One:
Kyle Kendrick finishes with 15 wins and a sub-3.50 ERA.
Photo Courtesy: fanduel.com
Why it could happen:
The four main projection systems (RotoChamp, Steamer, ZIPS, and CAIRO) have Kendrick, on average, pitching 150 innings and finishing 9-9, to go along with a 4.38 ERA and a 95:41 K/BB ratio. So, why do I think that Kendrick will show such a large improvement from previous seasons? It's simple: he has the talent to put together a solid season. If you remember, he started off last season very well. After the home opener against the Royals in which he allowed five runs, Kendrick settled down, and became one of the more consistent SP's in baseball for a long period of time. In seven starts from April 10th to May 12th, Kendrick allowed no more than two runs in all of them, including a shutout against the Mets and a start against the Reds in which he pitched seven innings of two hit ball, but ended up with a no decision as the Phillies lost, 1-0.
After that May 12th start, however, Kendrick started to fizzle out. He allowed four runs in his next start against those same Reds, then five runs against the Nationals. The summer months were especially tough on Kyle, as shown below:
Rk
Date
Opp
Rslt
Dec
IP
H
R
ER
BB
SO
HR
ERA
June
Opp
Rslt
Dec
IP
H
R
ER
BB
SO
HR
ERA
12
Jun 3
MIA
W,7-2
W(6-3)

9.0

6
2
2
1
5
0
3.12
13
Jun 8
@
MIL
L,3-4
L(6-4)

6.0

8
3
3
1
6
1
3.22
14
Jun 14
@
COL
W,8-7

4.1

10
7
7
2
0
2
3.76
15
Jun 19
WSN
L,2-6

7.2

2
1
1
1
6
0
3.56
16
Jun 25
@
SDP
W,6-2
W(7-4)

8.0

7
2
2
0
6
0
3.46
17
Jun 30
@
LAD
L,1-6
L(7-5)

6.0

10
4
4
1
2
0
3.59
July
Opp
Rslt
Dec
IP
H
R
ER
BB
SO
HR
ERA
18
Jul 6
ATL
L,4-13
L(7-6)

5.0

11
6
5
2
2
2
3.82
19
Jul 11
WSN
W,3-1
W(8-6)

7.0

5
1
1
1
2
0
3.68
20
Jul 19
@
NYM
W,13-8
W(9-6)

5.2

9
6
6
1
7
1
3.94
21
Jul 25
@
STL
L,1-3
L(9-7)

6.0

5
3
3
2
1
0
3.96
22
Jul 31
SFG
L,2-9
L(9-8)

2.0

8
7
6
1
0
0
4.29
August
Opp
Rslt
Dec
IP
H
R
ER
BB
SO
HR
ERA
23
Aug 6
CHC
W,9-8
W(10-8)

6.0

6
5
4
0
4
2
4.36
24
Aug 11
@
WSN
L,0-6
L(10-9)

4.1

11
6
4
2
3
0
4.48
25
Aug 17
LAD
L,0-5
L(10-10)

6.0

8
2
2
0
1
0
4.42
26
Aug 22
COL
W,5-4

5.0

8
4
4
1
2
1
4.51
27
Aug 27
@
NYM
L,0-5
L(10-11)

6.0

5
5
1
4
3
0
4.40
September
Opp
Rslt
Dec
IP
H
R
ER
BB
SO
HR
ERA
28
Sep 1
@
CHC
L,1-7
L(10-12)

6.0

8
5
5
1
4
0
4.51
29
Sep 7
ATL
W,6-5

6.0

4
3
3
3
8
0
4.51
30
Sep 13
@
WSN
L,1-6
L(10-13)

4.1

8
6
6
2
3
2
4.70

182.0

207
104
95
47
110
18
4.70
It's clear that he has the stuff to produce double digit wins and a sub-3.50 ERA; the only question marks with him are fatigue and consistency. If he doesn't fizzle out and stays consistent (both go hand and hand, if you think about it), Kendrick could surprise a lot of people.
Bold Prediction Two:
Ryan Howard hits 30 HR's, drives in 100-plus runs, and finishes with an average above .265.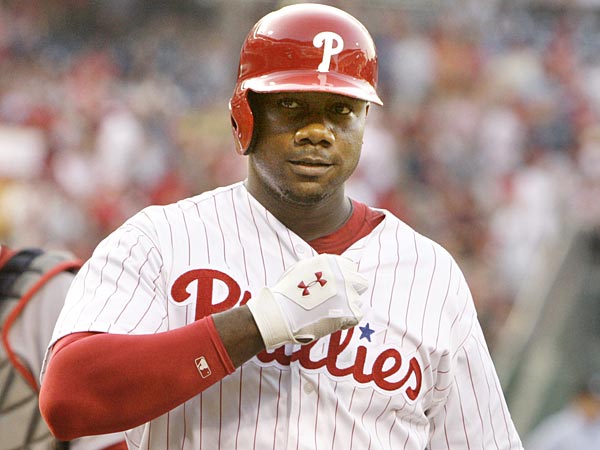 Photo Courtesy: philly.com
Why it could happen:
I remember asking my dad "Do you think Ryan Howard could finish his career with more than 500 HR's?" after the latter's phenomenal 2006 season. At the time, it wasn't crazy. Now, well...
Anyway, the four major projection systems I mentioned earlier have Howard accumulating 424 PA while hitting .241 with 21 HR's and 71 RBI's to boot. I understand why his projections are that low: he's been injury prone, many think he's a platoon player, and he strikes out too much to have a decent BA. However, I still feel as though the projections are way too low. My predictions revolves around one assumption: Howard has to stay healthy. By healthy, I mean that he has to play around 140-145 games. People seem to forget how Howard performed from 2006-2011 (AKA when he wasn't dealing with/coming back from an Achilles injury). During the aforementioned time span, Howard averaged 44 HR's. He also finished in the top-ten in MVP voting in each of those year, finishing in the top-five four out of six times.
I'm not saying that he'll finish anywhere close to the top-10 in the MVP voting, but if he can stay healthy and find a comfort level at the plate, Howard could become the player he once was, if only for a season or two. The key word for Howard at this point in his career is "adjust." Pitchers adjusted to him many years ago after seeing what he could do. Now, fully healthy (hopefully), it's his turn to adjust.
Bold Prediction Three:
Ben Revere hits over .300 and finishes the season with 40-plus stolen bases, plus two home runs.
Photo Courtesy: CBS Philly
Why it could happen:
As we have with the other two players, let's look at Revere's projections: 509 plate appearances, .289 batting average, 33 stolen bases, two home runs. As you remember, Revere was acquired in that trade with the Twins in 2012, with the Phillies giving up
Trevor May
and
Vance Worley
to get him. Initially, the trade seemed like a terrible one, as Revere started ice cold. Fans wanted
Michael Bourn
or
B.J. Upton
to be the Phillies CF last year (before the season started, mind you), not some guy named Ben Revere, who had never hit a HR before.
I saw the following statistics in a Phillies Nation article, written by
Pat Egan
:
B.J. Upton: $12.45 million for 391 AB, 30 R, 14 2B, zero 3B, nine HR, 26 RBI, 12 SB, .184/.268/.289
Michael Bourn: $7 million for 525 AB, 75 R, 21 2B, six 3B, six HR, 50 RBI, 23 SB, .263/.316/.360
Ben Revere: $515,000 for 315 AB, 37 R, nine 2B, three 3B, zero HR, 17 RBI, 22 SB, .305/.338/.352
While Worley was busy getting demoted to the Twins' AAA affiliate and May was struggling to keep his ERA under 4.50, it's clear that Revere was proving that he could be the Phillies CF for years to come.
Before that terrible injury that some say started the Phillies downfall last season (they seemed to be heating up before Revere's injury), Revere was one of the hottest position players on the Phillies. After a June 11th match-up against the Twins, Revere's average stood at an unimpressive .244. Starting on June 12th, however, it rose, and for the next month or so, it kept rising. His average never fell below .254 after that game on June 11th, and he ended the season (prematurely) batting .305. Basically, I'm saying the my bold prediction could happen because it was probably going to happen last year anyway. In regards to the home runs, I strongly believe that Revere could hit at least one (and probably two) out at CBP during July or August. Besides, it's time. If you still don't believe my Revere predictions, look at his averages per 162 games:
618 AB, 78 R, 15 2B, 7 3B, zero HR, 38 RBI, 45 SB, .285/.324/.330
Bold Prediction Four:
Jonathan Papelbon converts at least 45 save opportunities while blowing less than five.
Photo Courtesy: CBS Sports
Why it could happen:
Projections for Papelbon: 62 innings pitched, 3-2, 35 saves, 3.05 ERA, 66 strikeouts
Papelbon had high expectations when he signed a four year/$50 million contract to come to Philadelphia. He hasn't performed terribly since arriving here, but he hasn't exactly lived up to that $50 million contract. He converted 38 of his 42 save opportunities in 2012, but that success was no where to be found in 2013, when he converted only 29 of his 36 opportunities. It's been well noted that his average velocity (as well as his strikeout rate) has dropped considerably, but that doesn't mean that he can't be a great closer again.
During the spring, his fastball has ranged from the high-80s to low-90s, topping out at 92 a couple of weeks ago. Papelbon just needs to realize that he can no longer rely on his velocity to get guys out (a la
Aroldis Chapman
). Instead, he'll need to utilize his entire repertoire and hit his spots consistently. One missed spot this season could be the difference between a crucial save or a crushing loss.
CC Sabathia
was in the same situation Papelbon is in last season (decreased velocity, mainly), and suffered, posting a 14-13 record to go along with a 4.78 ERA. He seems to have figured out how to counter his decrease in velocity this spring, allowing only three runs in 21 innings of work. If Papelbon can figure out how to counter his decrease in velocity, he could become a top-ten closer once again. Of course, that will depend on both the Phillies' success and his attitude, but that's a completely different story.
Bold Prediction Five:
The Phillies win 92 games en route to a division title.
Photo Courtesy: FOX Sports
Why it could happen:
Look at some of the following predictions in regards to the Phillies 2014 record:
ESPN:
66-96
Las Vegas oddsmakers:
76-86
Clay Davenport:
72-90
Many other sources:
Fourth or fifth in the NL East
I read some interesting Phillies predictions in the weekend edition of the Philadelphia Daily News. I'll share a couple of my favorite ones:
"Twelve months ago, every Eagles headline seemed to garner little more than a shrug. Beaten down by years of organizational chest-thumping and near and not-so-near misses, they had devolved into what seemed to be an unmanageable mess... Yes, they needed all of that (QB, better tacklers, LB's, etc)... The task seemed so overwhelming it was hard to get worked up over FA signings, draft picks and draft orders... If you thought the Eagles might win eight games, you were dubbed a hopeless optimist. ~Sam Donnellon"
"There will be a stretch this season, a stretch of six weeks or so, when the Phillies will play as if someone has been listening to Ruben Amaro Jr.'s nightly prayers. There will be good health and timely hitting and excellence through the starting rotation... During this stretch, hope will spring - but not eternally... There isn't enough to make .500 more than a goal. ~Rich Hofmann"
"Right now, though, the Phillies do not look to be in nearly as bad of shape as they were at this time last year. They have more talent, and fewer question marks, than the Mets, Marlins, Cubs, Padres, Rockies. Injuries have robbed the Braves and Diamondbacks of young, top-of-the-rotation starters. The Pirates have some serious pitching question marks. And that's just the National League. The race to the top: Washington, St. Louis, Los Angeles. The race to the bottom: Colorado, Chicago, Miami, New York. The Phillies will fall somewhere in between. ~ David Murphy"
I like Mr. Donnellon's opinion, as it gives off, if nothing else, a small glimmer of hope. Mr. Hofmann's opinion lines up with the majority of Phillies fans. I really like Mr. Murphy's opinion, though. Many think that the National League is far too talented for the Phillies to contend. As Murphy clearly states, that's not the case. They won't contend with St. Louis or Los Angeles, but, since this is a
bold
prediction, I believe that they contend with Washington. If (and that's the big word for this entire season) everything goes right, I see the Phillies shocking the league and finishing first in the NL East with a 95-67 record.
I know that a small amount of people, if any, will agree with these bold predictions. However, the purpose of this article wasn't to state the obvious, but rather the unthinkable. Am I confident in these predictions? Of course. Would I be upset if they don't turn out the way I'd like them to? Absolutely not. I know that this team isn't the best. That doesn't mean that they can't surprise us. Then again, as Sam Donnellon said, "I'm just a hopeless optimist."